Whether you want to cut your own tree, pick a live tree and have it cut for you, buy a tree already cut or buy a living tree you can plant, this page provides detailed listings of South Africa's choose-and-cut Christmas tree farms, places to buy pre-cut (also called pre-harvested and fresh-cut) trees, stands, sleigh rides, hay rides and related winter events and fun. Some listings are for tree farms, others are tree lots, and some only offer hay rides, sleigh rides or other winter events. READ EACH LISTING to know what each facility offers. The farms are listed further down this page, so scroll down the page! Since this service is free and open to ALL Christmas tree farms, not just those who belong to an association or pay for an ad, like almost all other websites do, this is the most complete and current listing available! Help me keep this page complete and up to date, by reporting any corrections needed or suggesting farms to add!
See these resource pages:
Our Christmas Tree guide with photos and descriptions of more than 2 dozen varieties of Christmas trees, along with a simple comparison chart! And a PDF print version to take to the farm with you!
NEW! What will Christmas dinner cost this year? Our estimates are far more accurate and current than the others! And try our Christmas dinner calculator and printable shopping list for your own specific dinner!
If it has just snowed; see this page about how to make snocones from real snow! It costs almost nothing and your kids will love it!
Tips:
If the name of the farm is blue with an underline; that's a link to their website or Facebook page. Click on it for the most current hours and information.
ALWAYS email or call the farm or store BEFORE YOU GO - many farms have closed in the past year, and of course, we won't know until the season starts and we find they aren't open! Call to confirm their supply, their hours and whether they have trees, are allowing choose-and-cut or just precut trees; and which attractions or winter activities are available. All three can change during the short Christmas season, due to weather, demand and the farmer's business conditions! Farms get sold, shut down or run out of trees, and they don't all update me every day, let alone every year. For more tips to make your trip fun and successful, click here !
DON'T DRIVE OUT THERE IF YOU CAN'T REACH THEM (by phone, email or find current information on their website or Facebook page!
And please tell the farmer you visit in South Africa that you found their farm here! I need the farmers to realize that you found them here so that they will keep their information up to date!
If you know of any tree farms I missed and want to add it or correct the information, or provide feedback about a farm or the website , please let me know! There are affiliate links on this page. Read our disclosure policy to learn more. After Christmas, click here to find how how and where to easily recycle or dispose of your Christmas tree! And to recycle used, broken or old Christmas lights and electronics See this page for local options to easily recycle your Christmas holiday lights
Looking for more info?
Updates for December 2023
December 2023: Tree supplies are looking good, but expect prices to be up this year. It's always smart to get to the tree farm early and tag or reserve your tree, if they allow it. Many tree farms allow tagging starting in mid-November.
And next Spring, you'll want to take your children to a free Easter egg hunt - see our companion website to find a local Easter Egg hunt - (www.EasterEggHuntsAndEasterEvents.org) . It's the ONLY website that is updated every Easter for all Easter Egg hunts in the U.S.
Christmas tree farms, lots and activities, sorted by county
Click on Resources above, if you need a county map
Be sure to check prices with the farms;their supplies and open hours change frequently and unpreducatbly. . There must be more Christmas tree farms and lots in South Africa, but there sure do hide well!
If you know of any, write me ! And Merry Christmas! - Geseënde Kersfees - 'UKhisimusi omuhle - Le be le keresemese e monate - Krismesi emnand!

Northland (Far North, Kaipara, Whangarei)
The Eastern Cape Province
The Free State Province
Gauteng Province (Johannesburg area)
Real Christmas Trees South Africa - Precut Christmas trees,
Dunkeld Bowls Club, 15 Hume Rd, Dunkeld West, Sandton, 2196 SA. Phone: 083 600 9622. Phone: 079 883 4883. Open: 09H00 to 17H30 DAILY, 09H00 to 16H00 PUBLIC HOLIDAYS, UNTIL WE SELL OUT. We sell genuine Japanese Cedar trees available from 13 December 2018, while stocks last. We do sell stands to help hold the trees in place. These are buckets with a cement base. The trees will last for 2 to 3 weeks if well cared for. the tree will fit in your car; we have been doing this for many years and are able to fit large trees into small cars. We will assist you loading the tree into your car. The trees are sold on a first come first serve basis. They are not able to take orders.
Christmas tree varieties:
PreCut varieties: Japanese Cedar
(UPDATED: December 5, 2022, JBS)
KwaZulu-Natal Province
Hilton Christmas Tree Farm - Precut Christmas trees,
3 Valley Road, Winterskloof, Hilton, KwaZulu-Natal, South Africa, 3245. Phone: +27 (0)61 184 4839 WhatsApp or SMS only. Open: weekdays from 5 pm to 6 pm and Saturdays by appointment. You can buy a real, freshly cut Christmas Tree from the Christmas Tree Farm. To order, see their website. and contact them there with your name, the preferred height you'd like your tree to be and your car registration number. Your tree will be cut and ready for collection between 5.00pm and 6.00pm from 3 Valley Road in Winterskloof on the day agreed. A Saturday collection is possible by prior arrangement. Winterskloof grown Christmas Trees (Cryptomeria Elegans): collected by buyer. No stands, tarpaulins, transport or buckets are sold.
Christmas tree varieties:
PreCut varieties: Cedar
(UPDATED: December 5, 2022, JBS


Limpopo Province
Mpumalanga Province
The Northern Cape Province
North West Province
The Western Cape Province
Capelands Landscape - Precut Christmas trees,
Brookford Road, Lotus River, Grassy Park, Cape Town, SA 7941. Phone: 021 705 5705. Alternate phone: 081 427 2433 . Email:

[email protected]

. open: Christmas Tree Site open from Saturday 1 December 2018. Come view and select your Christmas tree for collection or delivery. NB: by appointment only. Christmas Tree Site .Full Growth , Fresh Pine Trees. Come Collect Yours - bring the family. Capelands Landscape Christmas Tree Site is open to the public (however -please call ahead) We have a selection of Superfresh, Supergreen Trees - available daily. We deliver within Cape Town which includes Southern, Deep South, Central, Northern, West Coast & Helderberg suburbs. Your Christmas Tree can be requeste with or without a stand (please enquire about this) Crafted Gifts, Crafted Tree Decoration & other Miscellany and We also provide bags of Pine Cones and have a substantial amount of homemade handcraft - creatively made by our friends at CAFDA (cape flats development association). Candles, jewelery, keyrings, baubles, bobbles & other bobs. These upcycled trinkets make for cool, unique tree decorations & gifts (please enquire about this) Click here for our Facebook page. (UPDATED: November 14, 2021) (UPDATED: October 22, 2021)

Trendy Trees Cape Town - Trees for sale or to rent
We are an online store and do not have physical stores. Our offices are based in Cape Town.. Phone: Dean or Cameryn 0725 576195. Email:

[email protected]

. Need to hire a Christmas Tree? We rent out Christmas Trees to the film industry, media industry, BnBs, hotels, venues and any setting. WE DECORATE! WE DELIVER! WE COLLECT! NO HASSLES! Rent a Christmas tree for your holiday or Christmas event
Christmas trees are our thing. We specialise in decorating the perfect Christmas tree for your reception area, hotel lobby, guest house, or home.
Choose from 5 Christmas tree styles, decide on a colour scheme, phone Kim & Michelle to arrange delivery and set up of your tree. After the holidays we will pack up and collect it.
Trendy Trees has been the go-to Christmas tree hire company in South Africa for over a decade. With branches in Plettenburg Bay, Johannesburg and Cape Town, we offer luxury, innovative Christmas trees for hotels, office, shopping centers, and private homes. To find out more, call or email
Email, phone or Whatsapp to enquire about garlands, wreaths and other decor for your venue.
(UPDATED: November 14, 2021
Types of trees in South Africa
Since traditional fir Christmas Trees don't grow well in the heat many native trees are often susbtituted, although fir tres are omported and are still popular.
The traditional cedrus deodars; European cedars are often sold
Podocarpus henkelii, or yellowwood from the forests of the Indian Ocean coast is a native alternative. It has a perfect pyramid Christmas tree shapeIt's needles look more like drooping leaves from a rubber plant, but are still technically needles as it does belong to the pine family
giant baobab tree

And of course, artificial trees are common.
Santa's Warehouse sells them online if you can't find a real live tree!
5 Graham Road, Lynnwood Extension , Near Silver Lakes, Shere, 0084, South Africa
Phone: +27 86 999 0440


Other information about Christmas in South Africa:
Like in many other countries, children leave a stocking out for Sinterklaas (St Nicholas) or Kersvader (Father Christmas) or Santa Claus on Christmas Eve.
Christmas dinners can be turkey, duck, roast beef, mince pies or local favorites like suckling pig with yellow rice & raisins and vegetables. Desserts follow the UK traditionof a Christmas Pudding (a rum soaked fruit cake) or Malva Pudding (which is a a traditional South African desert) also 'Lekker Pudding; from the Dutch or German word for "delicious". Just like in the UK, the table is set with Christmas Crackers, but unlike the UK. the meal may be eaten outside. Carolers go out on Christmas Eve. Church services are held on Christmas morning rather than Christmas Eve.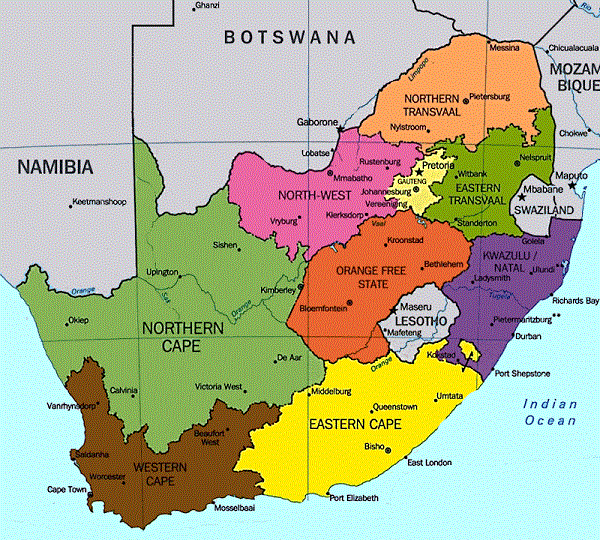 ---