Where and How to Recycle or Dispose of Christmas Trees in King County, Washington after Christmas in January 2022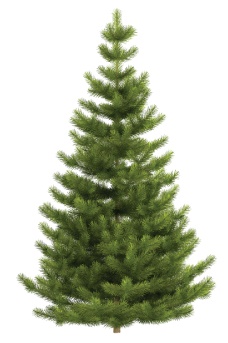 In many urban and suburban areas, Christmas trees are collected from curbside during the first 2 weeks in January. Be sure to remove all remove all lights, wire, tinsel, ornaments, nails, stands, other NON-Organic decorative materials and other materials that are not part of the original tree. This includes tree stands also. Flocked trees are usually accepted, but not artificial trees. Large trees (larger than the standard 6 - 7 ft tree) may need to be cut in half to be acceptable by your garbage hauler. But scrroll down this page for more specific information and local links.
What happens to the trees? In most cases, the trees are chipped and made into a mulch which is usually made available, free to city or county residents. Important: Never burn your Christmas tree in a fireplace or wood stove. Burning the tree may contribute to creosote buildup and could cause a chimney fire.
Tips: Always follow the links (usually the name of the city or county) below for updated information, as these agencies often wait until the last minute to change dates or update their information (it's government, remember?). If your area is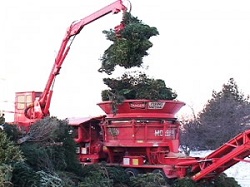 not specifically mentioned below, contact your trash collection agency and inquire!
Related information:
See this page for local options to easily recycle your Christmas holiday lights
If it has just snowed; see this page about how to make snocones from real snow! Your kids will love it!
Click here for the list of winter sleigh ride locations!
See our easy recipes to make a Chocolate Yule log and click here to make your own low-fat, low calorie but delicious Egg Nog ! Then come back to our other website in March to find a local Easter Egg Hunt for your children ! There are affiliate links on this page. Read our disclosure policy to learn more.
King County, Washington: Where and How to Recycle Your Christmas Tree After the Holidays January 2022
King County, WA has several options for recycling your Christmas tree. By recycling your Christmas tree, you'll give it a new life as wood chips or compost!
And, you'll help reduce greenhouse gas emissions that contribute to climate change .
Curbside pickup - If you have curbside yard waste collection service, you may place your tree at the curb with your regular yard waste. Select your city from the menu on this page to contact your hauler for details or to visit your City's website for tree-cycling events. Of course, you can contact your recycling hauler for details and restrictions.
City events - Some cities offer free Tree-Cycling events see the tree cycling page for your city's details.
King County recycling and transfer stations - See below for information about tree recycling at King County facilities.
Private and public facilities: Private companies - The companies listed in the next section below accept trees for recycling. Call ahead for updates and to confirm details.
Recycling Christmas lights
Call the King County Solid Waste Division Monday through Friday, 8:30 am to 4:30 pm, at 206-296-4466 or 1-800-325-6165 (toll-free), ext. 6-4466, TTY Relay: 711.
Other options:
View the tree-cycling/yard waste recycling options listed on the What Do I Do With ? website or see the Christmas / holiday recycling options flier (PDF). It's never too late to explore alternatives to Christmas trees and holiday decorations ; . Make a donation to a local community group. Tree Recycling Options flier
Recycling Christmas Lights
Most holiday lights recycling programs want you to remove large glass bulbs (the smaller plug-in bulbs are okay) from light strands, and remove any excessive plastic attachments from the light strands, since that glass and plastic is not recyclable (you can throw those materials away yourself at home).
King County facilities - take your tree here
At the King County facilities below, holiday trees are accepted as yard waste and must be separated from garbage for recycling. At all other King County facilities, holiday trees are accepted as garbage at the garbage fee. Trees must be no more than 8 feet long.
Yard waste recycling fee: $12 minimum; $75 per ton
Garbage fee (as of January 2021): $25.50 minimum; $151.63 per ton Minimum fees cover up to 320 lbs. King County's Cleanup LIFT program offers a $12 discount for residential customers enrolled in ProviderOne, EBT, or ORCA LIFT who haul their garbage, yard waste, clean wood, and refrigerant-type appliances to a King County facility. The discount is good for each type of waste per entry. Just show your card upon entry.
Bow Lake Recycling and Transfer Station 18800 Orillia Road S. Tukwila 98188 Station hours: Mon.-Thurs.: 24 hours a day Fri.: 12 am to 11:30 pm, Saturday and Sunday: 8:30 am to 5:30 pm Recycle area hours (including yard waste): Monday to Friday: 6:00 am to 8:00 pm, Saturday and Sunday: 8:30 am to 5:30 pm
Cedar Falls Drop Box 16925 Cedar Falls Road SE., North Bend 98045 Hours: Mon., Wed., Fri., Saturday and Sunday: 9 am to 5 pm, Closed: Tues. and Thurs. NOTE: Maximum load size - 1 ton or 3 cubic yards
Enumclaw Recycling and Transfer Station 1650 Battersby Ave. E., Enumclaw 98022 Hours: Open daily: 9 am to 5 pm
Factoria Recycling and Transfer Station 13800 SE 32nd St., Bellevue 98005 Hours: Monday to Friday: 6:30 am to 4 pm, Saturday-Sunday: 8:30 am to 5:30 pm
Shoreline Recycling and Transfer Station 2300 N. 165th St., Shoreline 98133 Hours: Monday to Friday: 7:30 am to 5 pm, Saturday and Sunday: 8:30 am to 5:30 pm
Vashon Recycling and Transfer Station 18900 Westside Highway S.W., Vashon 98070 Hours: Mon., Wed., Fri., Saturday and Sunday: 9 am to 5 pm, Closed: Tues. and Thurs.
South and Southeast King County
Cedar Grove Composting - Maple Valley 17825 Cedar Grove Road S.E., Maple Valley 98038 18 miles from Algona transfer station Phone: 877-764-5748 Hours: Monday to Friday, 7 am to 4 pm Closed December 25 and January 1 Cost: Call Cedar Grove for information.
Pacific Topsoils, Inc. - Maple Valley 21700 SE Lake Francis Road, Maple Valley 98038 9 miles from Renton transfer station Phone: 1-800-884-7645 or 425-308-6933 Hours: Monday to Friday: 7 am to 3 pm, Closed December 30, December 31 and January 1 Cost: $5 per tree
Rainier Wood Recyclers - Covington 28411 Covington Way S.E., Covington 98042 16 miles from Enumclaw transfer station Phone: 425-222-0008 Hours: Monday to Friday. 7 am to 5 pm; closed Saturday and Sunday Closed December 24-December 26, and January 1 Cost: $1/tree
City of Seattle Recycling and Disposal - South Transfer Station 130 S. Kenyon St., Seattle 98108 - 9 miles from Bow Lake transfer station Phone: 206-684-8400 Hours: 8:00 am to 5:30 pm daily, Closed December 25 and January 1 Cost: Free from December 26 - January 31, Starting Feb. 1, $20 minimum fee for loads up to 320 pounds.
North and Northeast King County
Cedar Grove Composting - Woodinville 21902 76th Dr. S.E., Woodinville 98072 11 miles from Houghton (Kirkland) transfer station Phone: 877-764-5748 Hours: Monday to Friday, 7 am to 4 pm Closed December 25 and January 1 Cost: Call Cedar Grove for information.
Pacific Topsoils, Inc. - Kenmore 7500 NE 175th St., Kenmore 98028 7 miles from Shoreline transfer station Phone: 1-800-884-7645 or 425-485-0701 Hours: Monday to Friday: 7 am to 5 pm, Saturday: 9 am to 4 pm, Sunday: 9 am to 3 pm, Closed December 30, December 31 and January 1 Cost: $5/tree
Pacific Topsoils, Inc. - Maltby 8616 219th St. S.E., Woodinville 98072 13 miles from Houghton (Kirkland) transfer station Phone: 1-800-884-7645 or 425-485-5086 Hours: Monday to Friday: 7 am to 5 pm, Saturday: 9 am to 4 pm, Sunday: 9 am to 3 pm, Closed December 30, December 31 and January 1 Cost: $5/tree
Pacific Topsoils, Inc. - N. Seattle 1212 N. 107th St., Seattle 98133 4 miles from Shoreline transfer station Phone: 1-800-884-7645 or 206-418-1301 Hours: Monday to Friday: 7 am to 5 pm, Saturday: 9 am to 4 pm, Sunday: 9 am to 3 pm, Closed December 30, December 31 and January 1 Cost: $5/tree
Central King County
Pacific Topsoils, Inc. - Issaquah 9830 Renton-Issaquah Road S.E., Issaquah 98027 9 miles from Factoria transfer station Phone: 1-800-884-7645 or 425-369-0906 Hours: Monday to Friday: 7 am to 5 pm, Saturday: 8 am to 4 pm, Sunday: 10 am to 3 pm, Closed December 30, December 31 and January 1 Cost: $5/tree
Pacific Topsoils, Inc.- Redmond (Gray Barn Nursery) 20871 N.E. Redmond-Fall City Road, Redmond 98053 6 miles from Houghton (Kirkland) transfer station Phone: 1-800-884-7645 or 425-898-8217 Hours: Monday to Friday: 7 am to 5 pm, Saturday: 9 am to 4 pm, Sunday: 9 am to 3 pm, Closed December 30, December 31 and January 1 Cost: $5/tree or free if tree purchased from Gray Barn Nursery (proof of payment required).
Sunset Materials - Renton 18011 Renton - Issaquah Road S.E., Renton 98059 5 miles from Renton transfer station Phone: 425-226-4140 Hours: Monday to Friday: 7:30 am to 4:00 pm Saturday: 8:00 am to 4:00 pm Starting January 8:00 am to 4:00 pm every day Closed December 24 -January 1 Cost: January 1 - January 31 - Free. After January 31 - $21.85/tree
All other areas of the state (just enter your zip code on the page that comes up)