Where and How to Recycle or Dispose of Christmas Trees in Missouri after Christmas 2022 and in January 2023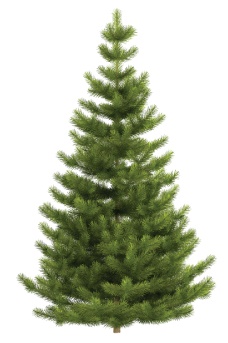 In many urban and suburban areas, Christmas trees are collected from curbside during the first 2 weeks in January. Be sure to remove all remove all lights, wire, tinsel, ornaments, nails, stands, other NON-Organic decorative materials and other materials that are not part of the original tree. This includes tree stands also. Flocked trees are usually accepted, but not artificial trees. Large trees (larger than the standard 6 - 7 ft tree) may need to be cut in half to be acceptable by your garbage hauler. But scrroll down this page for more specific information and local links.
What happens to the trees? In most cases, the trees are chipped and made into a mulch which is usually made available, free to city or county residents. Important: Never burn your Christmas tree in a fireplace or wood stove. Burning the tree may contribute to creosote buildup and could cause a chimney fire.
Tips: Always follow the links (usually the name of the city or county) below for updated information, as these agencies often wait until the last minute to change dates or update their information (it's government, remember?). If your area is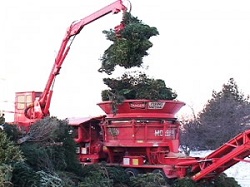 not specifically mentioned below, contact your trash collection agency and inquire!
Related information:
See this page for local options to easily recycle your Christmas holiday lights
If it has just snowed; see this page about how to make snocones from real snow! Your kids will love it!
Click here for the list of winter sleigh ride locations!
See our easy recipes to make a Chocolate Yule log and click here to make your own low-fat, low calorie but delicious Egg Nog ! Then come back to our other website in March to find a local Easter Egg Hunt for your children ! There are affiliate links on this page. Read our disclosure policy to learn more.
Missouri: Where and How to Recycle Your Christmas Tree After the Holidays January 2023
Where and How to Recycle or Dispose of Christmas Trees in Missouri in 2023
Curbside Pickup and/or Drop off:
Columbia Missouri -


Curbside pick-up:

You no longer need to remove objects from your tree if you don't want to. Whole Christmas trees can be placed curbside with your regular trash and will be collected for use in the city's bioreactor landfill. In the bioreactor, liquid is added to accelerate the decomposition and stabilization of the waste. Methane produced will be used to generate electricity from this renewable energy source. After January 31, trees placed curbside need to be cut into four-foot lengths and bundled. For more information, call the Public Works Solid Waste Division at 573-874-6291 or send an e-mail to

[email protected]

.
Yard Waste Drop-off Center (Drop your tree off to make compost)

You may recycle your tree at either of the Yard Waste Drop-off Centers: Parkside Drive or Capen Park. Please ensure that no decorations or tree stands are dropped-off at these sites. The trees will be shredded into mulch and used in the City's Compost Operation. The remaining mulch is free to the public for landscaping or backyard composting.
You may also recycle your tree by transporting it directly to the City's Compost Operation at 5700 Peabody Road (near the landfill).
There is no charge for dropping-off your tree at the yard waste or composting areas. The tree, or any other yard waste, can be taken to these locations any time throughout the year.
Find out if there is a way to recycle your holiday decorations by searching the item on our new phone app, COMO Recycle and Trash. The Waste Wizard search engine is also available on our main Solid Waste webpage.

Artificial trees and wreaths are not recyclable. Artificial trees and wreaths which have met the end of their lifespan should be placed inside City provided refuse bags and disposed of in your normal trash collection. Artificial trees and wreaths that are to large to place inside a City provided refuse bag can be scheduled for collection as a bulky item.

Christmas Light Recycling

Columbia Computer Center 1122 Lakeview Avenue, Columbia, MO 65201. Phone: (573) 442-9445.
Pick-up Services
Belton, MO

- Lawn-Corps Yardwaste Recycling & Soil Center - Missouri residents only - (816) 761-3046
Gladstone, MO - Nature's Rubbish - Missouri residents only - (816) 444-4050
Grandview, MO - Compost Connection Inc. - Missouri residents only - (816) 761-8300
Kansas City, MO - Country-Side Recycling - Missouri residents only - (816) 923-7127
Raymore, MO Boy Scout Troop 427 Christmas Tree Recycling -
They may have stopped doing it, there is NOTHING online about it this year
Contact David at 816-898-0923 to schedule pick up of your live Christmas tree. Pick between Saturday Dec 27th & January 3rd.
City of Raymore Park House, 909 S Main Street, Raymore, 64083.
(Prices may have changed!) $10.00 Per tree pick up service.
Proceeds Benefit Boy Scout Troop 427. Scouts will strip the tree branches for the City of Raymore to use as mulch. The Scout Troop will use the trunks for the tree as firewood throughout the year. Making the full tree Recycled.
Drop-Off Locations
Archie - Yard waste collection site, 401 S. Main, Archie, Missouri, 816-293-5601; Archie residents only
Belton - Kansas City Composting, 2008 E. 171st St., Belton, Missouri, 816-761-3046
Blue Springs - Pink Hill Park, 2715 NW Park Road, Blue Springs, Missouri, 816-228-0110
Buckner - Yard waste drop-off site, 2500 O'Donnell Rd., Buckner, Missouri, 816-650-3191; Buckner residents only
Excelsior Springs - Recycling Center, 1290 Marietta St., Excelsior Springs, Missouri, 816-630-0755
Freeman - Yard waste collection site, 105 E. Main, Freeman, Missouri, 816-250-2902: Freeman residents only
Gladstone - Regional Brush and Yard Waste Recycle Facility, 4000 NE 76th St., Gladstone, Missouri, 816-436-5442; Gladstone, Pleasant Valley, Liberty, Parkville and Lake Waukomis residents only
Harrisonville - Town & Country Disposal, 22820 S. 291 Hwy., Harrisonville, Missouri, 64701, (816) 380-5595.

Jefferson County, MO

- The Jefferson County Parks and Recreation Department, in cooperation with the St. Louis Post Dispatch and the Crystal City Parks Department, sponsors its annual Christmas tree recycling program from Christmas through mid January. Dispose of your natural Christmas tree with us! Recycling locations are as follows:
Pleasant Valley Nature Preserve, Highway PP and Byrnes Mill Road, High Ridge
Sunridge Park, 8093 Tower Road, North of Hillsboro
Jefferson County Courthouse Lower Parking Lot, Hillsboro
Crystal City Municipal Park in Crystal City.
Designated drop areas for your tree will be marked. For more information on these and other programs, please contact us at the Jefferson County Parks and Recreation Department at 636-797-5334 or by email at

[email protected]

.

Kansas City,

-

Alvey Park, 4834 Metropolitan Ave., Kansas City, Kansas, 913-573-8327
City Park, 2601 Park Drive, Kansas City, Kansas, 913-573-8327
Stony Point Park, 531 N. 86th St, Kansas City, Kansas, 913-573-8327
Wyandotte County Park, 600 N. 126th St., Bonner Springs, Kansas, 913-573-8327
Missouri Organic, 1260 Alma St., Kansas City, Kansas, 816-483-0908
North - Leaf and Brush Drop-Off Site, 11660 N. Main St., Kansas City, Missouri, 816-483-0908
East Bottoms - Leaf and Brush Drop-Off Site, 1815 N. Chouteau Trfy., Kansas City, Missouri, 816-483-0908
Southeast - Leaf and Brush Drop-Off Site, 10301 Raytown Road, Kansas City, Missouri, 816-483-0908
East - Missouri Organic Recycling, Inc., 7700 E. U.S. 40, Kansas City, Missouri, 816-483-0908
South - Suburban Lawn and Garden Yard Waste Recycling Center, 201 W. 139th St., Kansas City, Missouri, 816-941-2438

Kearney - Recycling center, 504 E. 19th St., Kearney, Missouri, 816-628-4142; Kearney residents only
Lawson - Yard waste collection site, 102 Kessler Drive, Lawson, Missouri, 816-580-3217; Lawson residents only
Liberty, MO - Christmas Trees Recycling: The City offers a drop-off site for Christmas tree collections for a limited time during the holidays; check local papers, website or call 816.439.4514. Reminders will also be distributed via the News Flash, the City's email news service . City Park, 1100 Clayview Dr., Liberty, Missouri, (816) 439-4415
Bennett Park, 970 S. Hwy 291, Liberty, Missouri, 816-439-4360
Platte City - Yard waste drop-off site, 500 W. Mill St., Platte City, Missouri, 816-858-3046; Platte City residents only
Raymore, MO Boy Scout Troop 427 Christmas Tree Recycling -
UPDATE - I see NOTHING for 2021, 2022, so call; they may have stopped doing it
; Contact David at 816-898-0923 to schedule pick up of your live Christmas tree. Pick between Saturday Dec 27th & January 3rd.
City of Raymore Park House, 909 S Main Street, Raymore, 64083.
$5.00 Per tree drop off service; (Prices may have changed!) $10.00 Per tree pick up service.
Proceeds Benefit Boy Scout Troop 427. Scouts will strip the tree branches for the City of Raymore to use as mulch. The Scout Troop will use the trunks for the tree as firewood throughout the year. Making the full tree Recycled.
Richmond - City hall parking lot, 205 Summit St., Richmond, Missouri, 816-776-5304; Richmond residents only
Riverside - Damon Pursell Yard Waste Facility, 6305 NW Riverpark Dr., Riverside, MO, (816) 876-8898
Roeland Park - 48th St. and Roe Pkwy., Roeland Park, Kansas, 913-722-2600; Roeland Park residents only

Smithville

- Little Platte Park, Smithville Lake, 16311 state Route DD, Smithville, Missouri, 816-407-3400, ext. 3
Springfield, MO -
Options available for recycling Christmas trees. Springfield residents are reminded that Christmas trees are not accepted at Missouri landfills. Several options are available for recycling this year's trees:

The City of Springfield Yardwaste Recycling Center (3790 S. Farm Road 119, Brookline) will accept residential Christmas trees, wreaths, garlands and other organic decorations for no charge between December 28th, and January 29, 2022. All other times of the year the standard fee schedule will apply. The facility is open 8 am to 5 p.m., Tuesday to Saturday. Closed Sundays, Mondays, and national holidays. Trees are NOT accepted at the Franklin Avenue and Lone Pine recycling centers.
Trees will be ground into wood chip mulch, available for purchase at the YRC and Lone Pine recycling centers. Please remember to remove all tree stands, decorations, wiring and twine. No flocked trees are accepted. Call the City's Recycling Hotline at 864-1904 for more information.
Bass Pro Shops will accept live trees at 1938 S. Campbell Avenue, across the street from the main store entrance,
Trees are accepted from noon until 6 p.m.,

every day through December 31st.


Organizers ask that all ornaments, lights, and decorations be removed from trees before being dropped off.
Artificial trees will not be accepted.
A $10 per tree donation is recommended, benefiting projects for the Ozark Trails Council Boy Scouts Wa-Sha-She Lodge Order of the Arrow.
Please remove tree stands and all decorations. No flocked trees accepted. Trees will be used to provide structure and habitat for fish at Table Rock Lake. For more information, contact Bass Pro Communications at 873-4567 or

[email protected]

.
Hansen's Greenwaste (3341 S. Farm Road 107, Brookline) will accept residential Christmas trees for no fee, Monday-Friday 8 a.m.-5 p.m., December 27,, through January 31, 2022. After January 31, a $5 fee per tree will apply. Please remove all tree stands and decorations. No flocked trees accepted. Call 877-8733 for more information.
Wickman's Gardens (1345 S. Fort Avenue) will accept live Christmas trees beginning December 27 for a $5 donation. Hours of operation are Monday to Saturday, 8 am to 5 p.m. Proceeds will be donated to the Ozarks Area Community Action Corporation. Please remove all tree stands, decorations and plastic bags. No flocked or artificial trees accepted. For more information, call 862-3707.

Options for artificial trees and string lights:

Artificial trees and holiday decor in usable condition are accepted for free at the Habitat for Humanity ReStore (2410 S. Scenic Ave.) and many local thrift stores. This is a great way to give your tree a second chance and bring holiday cheer to a new family.
String lights can be recycled for no charge at AAA Certified Computer Recycling Center (528 N. Prince Lane) and Complete Electronics Recycling (2935 W. Chestnut Expy.).

St. Louis, MO - City residents can take the bare Christmas tree to one of three city parks to be recycled.
Christmas trees can be dropped off beginning December 26th through the second Monday in January (in 2022, that's January 10, 2022). After that the city will no longer accept Christmas trees for recycling. Phone: (314) 622-4072
Locations
Drop off Christmas trees at any one of these three park locations: Remove ornaments, tinsel, lights and tree stand. Do not put the tree in a plastic bag or cover it. Wreaths and pine roping are not accepted at the sites. Drop off trees anytime at any one of these three park locations:

Forest Park, Lower Muny Opera parking lot
O'Fallon Park, West Florissant and Holly, picnic grounds #4
Carondelet Park, Grand and Holly Hills, area between gate & recycling containers

No fees apply. Trees will be recycled into mulch, which will be made available to City residents. City residents should NOT place Christmas Trees in alley dumpsters or recycling containers. However, the Refuse Division will collect them as part of its regular monthly bulk pickup program. Free firewood is also available for pickup by City residents at each of the above parks as well through the first week of March. Daily wood supply is NOT guaranteed.
Sugar Creek - Courtney-Ridge Recycling Center,
2001 N. 291 Hwy., Sugar Creek, Missouri, (816) 257-7999.

Weatherby Lake

- 7200 NW Eastside Drive, Weatherby Lake, Missouri 816-529-3502;
Venita Access Area (corner of Potomac and Pleasant Ford streets), Weatherby Lake residents only