Where and How to Recycle or Dispose of Christmas Trees in Mississippi after Christmas in January 2022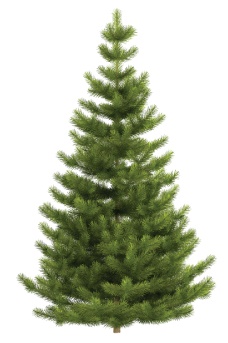 In many urban and suburban areas, Christmas trees are collected from curbside during the first 2 weeks in January. Be sure to remove all remove all lights, wire, tinsel, ornaments, nails, stands, other NON-Organic decorative materials and other materials that are not part of the original tree. This includes tree stands also. Flocked trees are usually accepted, but not artificial trees. Large trees (larger than the standard 6 - 7 ft tree) may need to be cut in half to be acceptable by your garbage hauler. But scrroll down this page for more specific information and local links.
What happens to the trees? In most cases, the trees are chipped and made into a mulch which is usually made available, free to city or county residents. Important: Never burn your Christmas tree in a fireplace or wood stove. Burning the tree may contribute to creosote buildup and could cause a chimney fire.
Tips: Always follow the links (usually the name of the city or county) below for updated information, as these agencies often wait until the last minute to change dates or update their information (it's government, remember?). If your area is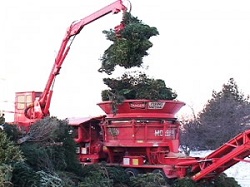 not specifically mentioned below, contact your trash collection agency and inquire!
Related information:
See this page for local options to easily recycle your Christmas holiday lights
If it has just snowed; see this page about how to make snocones from real snow! Your kids will love it!
Click here for the list of winter sleigh ride locations!
See our easy recipes to make a Chocolate Yule log and click here to make your own low-fat, low calorie but delicious Egg Nog ! Then come back to our other website in March to find a local Easter Egg Hunt for your children ! There are affiliate links on this page. Read our disclosure policy to learn more.
Mississippi: Where and How to Recycle Your Christmas Tree After the Holidays January 2022
City of Hamilton
Residents may leave trees at the curb with their household trash for pick up by Rumpke on regular trash collection days. Rumpke prefers trees to be in a disposable bag and if larger than 6' cut in half. Questions should be directed to the Hamilton Transfer Station at 867-8661 or visit their website for more details. Yard waste includes grass clippings, leaves, branches, prunings, hedge trimmings, sod, Christmas trees, straw and other plant material. Yard waste is now picked up with your trash on the same day, at no additional charge. Yard waste can be placed in your City or Rumpke-issued trash cart or in a 35-gallon can clearly marked yard waste or paper yard waste bag for collection.

City of Fairfield
Waterworks Park on Groh Lane will be accepting trees from December 26 to January 5. The city will chip the trees to produce mulch for the parks or residents who desire can keep the mulch for use around their home. Residents may leave trees at the curb with their household trash for pick up by Rumpke on regular trash collection days. Rumpke prefers trees to be in a disposable bag and if larger than 6' cut in half. Call 867-5348 or visit their website for more information.

The City of Oxford
The City of Oxford offers Christmas tree recycling annually from mid-December through mid-January. View their Events Calendar for exact dates. This holiday pick up service does not include wreaths or garland. Oxford residents may place live Christmas trees at the curbside for disposal on regularly scheduled refuse collection days. Yard waste tags are not required for this service. The City of Oxford Streets and Maintenance Division picks up and recycles trees.
Direct any questions to the City of Oxford Streets and Maintenance Division at (513) 523-8412.

Harrison County, MS - Christmas tree collection centers:
For more information, please contact Jenna Bennett with Harrison County Beautification at (228) 236-6421 or

[email protected]

.
Behind D'Iberville Elementary at the Bobby Eleuterius Sports Complex off Brodie Drive.
The Rodenberg Avenue parking bay at Highway 90 in Biloxi, MS.
The Woolmarket Work Center at Highway 67 and Old Woolmarket Road.
The Ken Combs Pier parking lot on Courthouse Road Pier at Highway 90 in Gulfport.
The Long Beach Harbor parking lot by the Pavilion on Highway 90.
And the Pass Christian Harbor west parking lot on Highway 90.

Hattisburg, Mississippi - Recycling your Christmas tree between Wednesday, Dec. 26 and Thursday, Feb. 28, all residents can drop off live, unflocked Christmas trees at the following locations:
- Duncan Lake on James Street
- Cameron Field at Kamper Park
- Fire Station #8 on Lamar Boulevard (near Petro Nissan)
- Highland Cemetery behind the office on W 7th Street
All trees collected will be chipped into mulch and placed at Highland Cemetery for pick-up by the public. Mulch will be available at no cost to citizens of Hattiesburg and will be available on a first come, first served basis.

Jackson County, MS - Christmas tree collection centers:
For questions about the tree-recycling program, call 601-960-0000.
Christmas Tree Recycling drop-off sites will be open through January 31 at the following locations in unincorporated Jackson County:
Jackson County Landfill (10501 Seaman Rd., Vancleave)
Vancleave Ballpark (Ballpark Rd., Vancleave)
Jackson County East Road Barn (Hwy. 63, Escatawpa)
Jackson County West Road Barn (Hwy. 609, St. Martin)
Jackson County Fairgrounds: (2902 Shortcut Road, Pascagoula)
Tree collection sites will be clearly marked. Residents are asked to remove trees from bags and take off all ornaments, lights, and stands before dropping off a tree. Flocked trees will be taken but artificial trees will not be accepted. Trees can also be placed curbside for regularly scheduled rubbish collection days in unincorporated areas. Recycling Christmas trees saves space in our local landfills and discourages illegal dumping. The County landfill processes old Christmas trees into composting material and it will be used to improve soil conditions at the landfill. For more information about all of the County's recycling programs and the rubbish collection day schedule, visit www.co.jackson.ms.us/departments/solid-waste.
Residents can go to the city's park maintenance facility at
4503 Officer Catchings Drive and pick up the free mulch made from the chipped Christmas trees, starting mid January (call 601-960-0000 for this year's date) . The mulch contains no artificial preservatives and is equally safe for your garden or pet bedding.


Ocean Springs, MS - Christmas tree collection centers:
Trees should be taken behind the Ocean Springs Civic Center at 3730 Bienville Boulevard.
Or the Public Works Department at 712-A Pine Drive behind the National Guard Armory. Ocean Springs residents who wish to recycle their Christmas trees will have the opportunity to do so from December 26th - January 10th. Recycled trees will be stripped and chipped for mulch. Any trees left curbside will not be recycled, but rather sent to a land fill. Trees must not contain any ornaments or lights, otherwise they will be sent to a land fill.