Whether you want to cut your own tree, pick a live tree and have it cut for you, buy a tree already cut or buy a living tree you can plant, this page provides detailed listings of Augusta and surrounding counties of Maine's choose-and-cut Christmas tree farms, places to buy pre-cut (also called pre-harvested and fresh-cut) trees, stands, sleigh rides, hay rides and related winter events and fun. Some listings are for tree farms, others are tree lots, and some only offer hay rides, sleigh rides or other winter events. READ EACH LISTING to know what each facility offers. The farms are listed further down this page, so scroll down the page! Since this service is free and open to ALL Christmas tree farms, not just those who belong to an association or pay for an ad, like almost all other websites do, this is the most complete and current listing available! Help me keep this page complete and up to date, by reporting any corrections needed or suggesting farms to add!
See these resource pages:
Our Christmas Tree guide with photos and descriptions of more than 2 dozen varieties of Christmas trees, along with a simple comparison chart! And a PDF print version to take to the farm with you!
If it has just snowed; see this page about how to make snocones from real snow! It costs almost nothing and your kids will love it!
Tips:
If the name of the farm is blue with an underline; that's a link to their website or Facebook page. Click on it for the most current hours and information.
ALWAYS email or call the farm or store BEFORE YOU GO - many farms have closed in the past year, and of course, we won't know until the season starts and we find they aren't open! Call to confirm their supply, their hours and whether they have trees, are allowing choose-and-cut or just precut trees; and which attractions or winter activities are available. All three can change during the short Christmas season, due to weather, demand and the farmer's business conditions! Farms get sold, shut down or run out of trees, and they don't all update me every day, let alone every year. For more tips to make your trip fun and successful, click here !
DON'T DRIVE OUT THERE IF YOU CAN'T REACH THEM (by phone, email or find current information on their website or Facebook page!
And please tell the farmer you visit in Augusta and surrounding counties of Maine that you found their farm here! I need the farmers to realize that you found them here so that they will keep their information up to date!
If you know of any tree farms I missed and want to add it or correct the information, or provide feedback about a farm or the website , please let me know! There are affiliate links on this page. Read our disclosure policy to learn more. After Christmas, click here to find how how and where to easily recycle or dispose of your Christmas tree! And to recycle used, broken or old Christmas lights and electronics See this page for local options to easily recycle your Christmas holiday lights
Looking for more info?
Updates for February 2023
February 2023: Tree supplies are looking good, but expect prices to be WAY up this year. It's always smart to get to the tree farm early and tag or reserve your tree, if they allow it. Many tree farms allow tagging starting in mid-November.
And next Spring, you'll want to take your children to a free Easter egg hunt - see our companion website to find a local Easter Egg hunt - (www.EasterEggHuntsAndEasterEvents.org) . It's the ONLY website that is updated every Easter for all Easter Egg hunts in the U.S.
Events:
Electric Christmas Parade - parade
Waterville, ME 04901. Phone: 207-680-2055. Open: Call for current date - usually around Thanksgiving. Come watch as A Touch of Country lights up Downtown Waterville with the Electric Christmas Parade. The parade brings Santa to town and ends with the lighting of the giant spruce in Castonguay Square.
Christmas tree farms, lots and activities, sorted by county
Click on Resources above, if you need a county map
Androscoggin County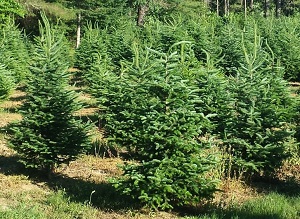 Kennebec County
Knox County
Balsam Hill Farm - Christmas trees-you choose and you cut,
67 Barrett Hill Road, Hope, ME 04847. Phone: 207-975-4343. Email:

[email protected]

. Open: Look for our opening in 2019
Our farm is currently developing and the first crop of beautiful trees are nearly ready. We plan to open for the 2019 holiday season and look forward to seeing you then!


Davis Stream Tree Farm

- Christmas trees-you choose and you cut, Christmas trees- you choose and we cut, Christmas wreaths, Christmas boughs,
263 Hopkins Road, Washington, ME 04574. Phone: 207-845-2544. Email:

[email protected]

. Directions: Hopkins Road is South of Route 17, between Route 17 and Route 126, halfway between Augusta and Rockland, in the town of Washington. Open: Friday, Saturday and Sunday Thanksgiving to Xmas, 8 am to dark. Payment: Cash, Check. Click here for our Facebook page.
Christmas tree varieties:
You-Choose and You-Cut varieties: Balsam Fir.
You Choose and We cut varieties: Balsam Fir.

Echo Hill Choose and Cut (also called Evergreen Farms) -

Uses natural growing practices

, Christmas trees-you choose and you cut, Christmas trees- you choose and we cut, Precut Christmas trees, Living Christmas trees (to plant later), Christmas wreaths, Christmas boughs, garlands, trees baled, free tree trimmings, saws provided, Christmas event or festival, free hot chocolate, gift shop, restrooms
2500 Winslows Mills Rd Route 32 North, Jefferson Side, Waldoboro, ME 04572. Phone: 207-832-5385. Alternate Phone: 207-832-7576. Email:

[email protected]

. Open: First Saturday after Thanksgiving and every Saturday and Sunday until Christmas 10 am to 4 pm We offer Self service during the week. Directions: From Route 1 Waldoboro, go North on Route 32 4.7 Miles Entrance is on Left. From Jefferson go South on Route 32 3.8 miles from the Damariscotta State Park Entrance is on right just past the Orff's Corner Church. Click here for a map and directions. We use natural practices, but are not seeking organic certification. Payment: Cash, Check, Visa/MasterCard, Discover, AmEx. Also called "Wreaths of Maine".
Christmas tree varieties:
You-Choose and You-Cut varieties: Balsam Fir.
You Choose and We cut varieties: Balsam Fir.
PreCut varieties: Balsam Fir.
Living, rooted tree varieties: Balsam Fir, Blue Spruce, Norway Spruce, White Pine.

Lincoln County
Christmas Tree Bazaar - wreaths, greens and an affordable Christmas tree for everyone. Mail order balsam wreaths
Back Meadow Road, Nobleboro, ME 04555. Phone: 207-563-5700. Email:

[email protected]

. Open: From early November, Saturday and Sunday, from 9 am to 4 pm through Christmas Eve. Directions: 1/4 mile off US RT 1 on Back Meadow Road, Nobleboro, just down hill from the telephone company. sales at Damariscotta Hardware, Upper Main St. Damariscotta. They also ship mail-order wreaths throughout the lower 48 states and can ship Christmas trees up to about 6.5 feet in height by UPS, too!
Christmas tree varieties:
U-Choose and Cut your own: Balsam fir Christmas trees, tabletop to 12 ft+
(UPDATED: December 8, 2021 JBS)
Green Acre Tree Farm - Christmas trees-you choose and you cut, Wreaths, Garland and Brush
663 South 27th Boothbay Road, Edgecomb, ME 04556. Phone: (207) 350-1311. Email:

[email protected]

. Open: Christmas season daily from early November through the Sunday before Christmas, from 8 am to 4 pm. Directions: From Route 1 Wiscasset go east to Route 27. Turn right heading for Boothbay Harbor. We are 3 miles from Route 1 on right hand side of Road.
Christmas tree varieties:
U-Choose and Cut your own: Balsam Fir, Fraser Fir, Concolor Fir, Black Hill Spruce
Precut: Balsam Fir, Fraser Fir, Concolor Fir, Black Hill Spruce
(UPDATED: December 8, 2021 JBS)
Sagadahoc County
Hummer Tree Farm - Christmas trees-you choose and you cut,
20 Varney Mill Rd, Bath, ME 04530. Phone: 207-443-5944. Open: 9 am to 4 pm. on the following Saturdays and Sundays: December 1 and 2, 2018; December 8 and 9, 2018. Directions: From U.S. Route 1, take the West Bath exit. At the end of the ramp, turn right (north) on New Meadows Road. After about 1 mile, jog a few feet to the right and then turn left to continue north on Ridge Road. At the end of Ridge Road, in about 2.1 miles, turn right on North Bath Road. After 0.2 miles, turn left on Varney Mill Road. Hummer Tree Farm will be on your left in about 200 feet.. Click here for a link to our Facebook page.
(UPDATED: November 12, 2019, JBS)

Waldo County