Whether you want to cut your own tree, pick a live tree and have it cut for you, buy a tree already cut or buy a living tree you can plant, this page provides detailed listings of Orange County, California's choose-and-cut Christmas tree farms, places to buy pre-cut (also called pre-harvested and fresh-cut) trees, stands, sleigh rides, hay rides and related winter events and fun. Some listings are for tree farms, others are tree lots, and some only offer hay rides, sleigh rides or other winter events. READ EACH LISTING to know what each facility offers. The farms are listed further down this page, so scroll down the page! Since this service is free and open to ALL Christmas tree farms, not just those who belong to an association or pay for an ad, like almost all other websites do, this is the most complete and current listing available! Help me keep this page complete and up to date, by reporting any corrections needed or suggesting farms to add!
See these resource pages:
Our Christmas Tree guide with photos and descriptions of more than 2 dozen varieties of Christmas trees, along with a simple comparison chart! And a PDF print version to take to the farm with you!
If it has just snowed; see this page about how to make snocones from real snow! It costs almost nothing and your kids will love it!
Tips:
If the name of the farm is blue with an underline; that's a link to their website or Facebook page. Click on it for the most current hours and information.
ALWAYS email or call the farm or store BEFORE YOU GO - many farms have closed in the past year, and of course, we won't know until the season starts and we find they aren't open! Call to confirm their supply, their hours and whether they have trees, are allowing choose-and-cut or just precut trees; and which attractions or winter activities are available. All three can change during the short Christmas season, due to weather, demand and the farmer's business conditions! Farms get sold, shut down or run out of trees, and they don't all update me every day, let alone every year. For more tips to make your trip fun and successful, click here !
DON'T DRIVE OUT THERE IF YOU CAN'T REACH THEM (by phone, email or find current information on their website or Facebook page!
And please tell the farmer you visit in Orange County, California that you found their farm here! I need the farmers to realize that you found them here so that they will keep their information up to date!
If you know of any tree farms I missed and want to add it or correct the information, or provide feedback about a farm or the website , please let me know! There are affiliate links on this page. Read our disclosure policy to learn more. After Christmas, click here to find how how and where to easily recycle or dispose of your Christmas tree! And to recycle used, broken or old Christmas lights and electronics See this page for local options to easily recycle your Christmas holiday lights
Looking for more info?
Updates for September 2023
September 2023: Tree supplies are looking good, but expect prices to be WAY up this year. It's always smart to get to the tree farm early and tag or reserve your tree, if they allow it. Many tree farms allow tagging starting in mid-November.
And next Spring, you'll want to take your children to a free Easter egg hunt - see our companion website to find a local Easter Egg hunt - (www.EasterEggHuntsAndEasterEvents.org) . It's the ONLY website that is updated every Easter for all Easter Egg hunts in the U.S.
Christmas tree farms, lots and activities, sorted by county
Click on Resources above, if you need a county map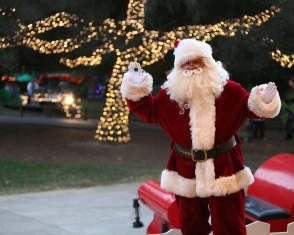 Orange County
Irvine Park Railroad's

21st

Annual Christmas Train!!! - Christmas-themed park, Santa visits, Christmas decorations, winter train rides, gift shop, snacks and refreshment stand, restrooms, picnic area, pony rides, petting zoo, birthday parties, school tours, Moon Bounce, Entertainment, events at your location (call for info),
1 Irvine Park Road, Orange, CA 92869. Phone: 714-997-3968. Email:

[email protected]

. Directions: Irvine Park Railroad is located at 1 Irvine Park, Orange, CA 92869. Our cross streets are Jamboree and Chapman Avenue. Click here for a map and directions. Open: Click here for current open hours, days and dates. It's the season, once again for Irvine Park Railroad'(TM)s annual Christmas Train. Come with family and friends and take this enchanting night ride through historic Irvine Regional Park to meet Santa Claus. The train will depart from the brightly-lit Train Station and drop passengers off at Santa'(TM)s Village. Christmas Train tickets can only be purchased online at

www.irvineparkrailroad.com

in advance to board the train; get in line when it is your time to board the train. And, while waiting for your boarding time, there are many activities for children to enjoy in the Party Pavilions located next to the train station: Story Time with Mrs. Claus, Christmas Cookie Decorating, Moon Bounce, Christmas Coloring Corner, Ice Fishing, Picture Stands and more. Prices for activities vary; for additional information and costs, visit www.irvineparkrailroad.com. At Santa'(TM)s Village, visitors may purchase coffee, hot chocolate, freshly-popped popcorn and cookies from the Elf House Snack Bar. A full kitchen menu is also available at the Train Station. Visitors may take their own pictures with Santa or you may purchase a picture taken by Irvine Park Railroad. After visiting with Santa, hop back aboard the train and enjoy the colorful Christmas lights and decorations, as well as the magical Tunnel of Lights, on the ride back to the station house. When visiting the Christmas Train, remember to dress warmly, bring a camera and film and arrive early to avoid crowds. The Irvine Park Railroad Christmas Train is open daily beginning December 1st through December 23rd, 2016. Visit the website for more detailed information on the times. In 2021, the cost to ride the Christmas Train is $12.00 per person.

Children younger than 24 months ride free. The parking for Irvine Regional Park is $3.00 per vehicle on weekdays and $5.00 per vehicle on weekends. Parking for the Christmas Train is free after 5 PM. Irvine Park Railroad is located inside of Irvine Regional Park. The address is: Irvine Park Railroad, 1 Irvine Park Road, Orange, CA 92869.

The regular train will not be open on Saturdays and Sundays during the month of December due to the Christmas Train. Annual Irvine Park Railroad events include the Christmas Train, Anniversary Celebration, Easter Eggstravaganza and Pumpkin Patch. For pictures of past Christmas Train events, please visit our online Photo Gallery . For pricing, park directions and complete details, please visit www.irvineparkrailroad.com.




Boy Scouts of America Troop 235 Christmas Tree Lot - Precut Christmas trees, Christmas wreaths, Christmas boughs, garlands,
18967 17th Street, Santa Ana, CA 92705. Phone: 714-544-8733. Open: Tree lot opens the day after Thanksgiving until the day before Christmas Eve; Open 7 days a week during the season; Monday through Friday 3 pm to 9 pm and Saturdays and Sundays 9 am to 9 pm. Directions: We are at the corner of 17th Street and Newport Avenue in North Tustin. From the 55 freeway get off at 17th Street towards Tustin and head east for about 1.5 miles and we are on the left just before you get to Newport Avenue. From the 5 freeway get off at Newport Avenue and go north about 2 miles where you will turn left at 17th Street and we are on the immediate right. Click here for a map and directions. Payment: Cash, Check, Debit cards, Visa/MasterCard. Thanks to you, Boy Scout Troop 235 continues to be a great success for over 45 years in the Tustin, Santa Ana, Orange and Irvine areas. Our Tree Lot Fundraiser* presents boys ages 11 to 18 with funding and a hands-on experience in salesmanship, leadership, and hard work. Fresh trees delivered weekly. Flocking and fire retarding available. Delivery and in-home setup by our Eagle Scouts available for an additional fee. * A portion of your purchase is tax deductible; a 501(c)(3) organization. Please consult your tax advisor.
Christmas tree varieties:
PreCut varieties: Douglas Fir, Noble Fir, and other varieties (call!).

Enchanted Country Christmas Trees - Precut Christmas trees, Christmas wreaths, mistletoe, trees bagged, trees tied, tree shaking provided, trees baled, snacks and refreshment stand, restrooms
480 N State College Blvd, Brea, CA 92821. Phone: (714) 990-9627 Email:

[email protected]

. Open:Christmas tree sales begin Friday the day after Thanksgiving to December 24, Sunday to Thursday 10 am to 9 pm; Friday and Saturday 10 am to 10 pm. Click here for current open hours, days and dates. Directions: Exit Lambert off 57 freeway, the patch is at the intersection ​of State College and Lambert. Next to Brea United Methodist ChurchWe do not have an admission fee. Free parking in the church parking lot. There is an ATM for your convenience. official. Payment: Cash, Check, Debit cards, Visa/MasterCard, Discover, AmEx. Featuring premium, extra fresh Douglas Fir & Noble Fir trees from 3 to 14 feet; we deliver; selling fresh wreaths and Mistletoe, tree stands; Trees loaded and tied; ALL trees in water; fresh cut on all trees; free candy canes for the kids; For your convenience we now feature "Santa's loading Lane" 1. Pick out and pay for your tree (well issue a tag) 2. Finish your Christmas shopping 3. Drive through Santa's loading lane and our staff will load and tie your tree without you ever leaving your car!. Enchanted Country Trees and Pumpkins facebook page.
Christmas tree varieties:
PreCut varieties: Douglas Fir, Fraser Fir, Grand Fir, Nordmann Fir, Noble Fir.
Farmakis Farms, formerly Mountain Pines Christmas Tree Farm - Christmas trees- you choose and we cut, Precut Christmas trees, Christmas wreaths, mistletoe, trees bagged, trees tied, restrooms, picnic area, Bouncy castle or moon bounce, pony rides, petting zoo, farm animals, birthday parties
29932 Camino Capistrano, San Juan Capistrano, CA 92675. Phone: 949-364-1270. Open: 7 days, 10 am to 7 pm, Friday after Thanksgiving through December 21st. Directions: We are located off the 5 Fwy between Avery and Junipero Serra in the city of San Juan Capistrano. Click here for a map and directions. The pumpkin patch opens October 8th through the 31st; We will have bouncers, a petting zoo, and pony rides to enjoy; Christmas Tree season opens the day after Thanksgiving through December 22nd; We grow our own trees(Leyland Cypress and Monterey Pines); You can pick the tree you want and we'll cut it down right there for you; We also bring in some of the freshest Nobles, Nordmanns, and Grand Firs from Oregon; The location is decorated with Christmas lights during the season, has picnic benches and restrooms on site; We also accept credit cards which makes paying very convenient; There is ample lighting and parking as well; We have many activities for the kids that include: jumpers/bouncers, pony rides(pumpkin season only), petting zoo(pumpkin season only), cut-outs for photo ops of Halloween and Christmas characters, and more; We are a a Toys for Tots sponsor and drop-off location; Come on down and make Mountain Pines Christmas Tree Farm a part of your family's tradition. Payment: Cash, Debit cards, Visa/MasterCard. Pumpkin Season: Pony rides and petting zoo dates are October 23rd, 24th, and 30th.
Christmas tree varieties:
You Choose and We cut varieties: Leyland Cypress, Monterey Pine.
PreCut varieties: Douglas Fir, Grand Fir, Noble Fir, and other varieties (call!).