Where and How to Recycle or Dispose of Christmas Trees in Virginia in January 2018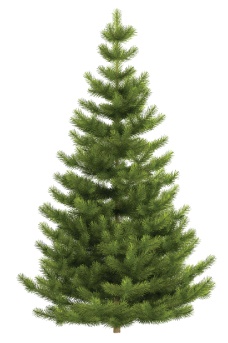 In many urban and suburban areas, Christmas trees are collected from curbside during the first 2 weeks in January. Be sure to remove all remove all lights, wire, tinsel, ornaments, nails, stands, other NON-Organic decorative materials and other materials that are not part of the original tree. This includes tree stands also. Flocked trees are usually accepted, but not artificial trees. Large trees (larger than the standard 6 - 7 ft tree) may need to be cut in half to be acceptable by your garbage hauler. But scrroll down this page for more specific information and local links.
What happens to the trees? In most cases, the trees are chipped and made into a mulch which is usually made available, free to city or county residents. Important: Never burn your Christmas tree in a fireplace or wood stove. Burning the tree may contribute to creosote buildup and could cause a chimney fire.
Tips: Always follow the links (usually the name of the city or county) below for updated information, as these agencies often wait until the last minute to change dates or update their information (it's government, remember?). If your area is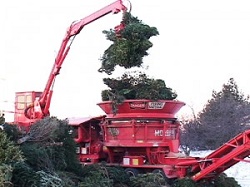 not specifically mentioned below, contact your trash collection agency and inquire!
Related information:
See this page for local options to easily recycle your Christmas holiday lights
Click here for the list of winter sleigh ride locations!
See our easy recipes to make a Chocolate Yule log and click here to make your own low-fat, low calorie but delicious Egg Nog ! Then come back to our other website in March to find a local Easter Egg Hunt for your children !
Virginia: Where and How to Recycle Your Christmas Tree After the Holidays
Albemarle County - Christmas Tree Recycling This is a FREE program that recycles discarded Christmas Trees that are chipped into mulch for the public's use.The County will operate seven sites. The operation dates will be from December 26 to mid-January. The hours will be 7 am to dark daily. As a reminder, this program is for Christmas trees only, please no yard waste. Both the County and City programs require that all decorations, stands and nails be removed from the Christmas trees. FREE mulch will be available starting February 1, at Darden Towe Park. The sites are:
* Rivanna Solid Waste Authority Recycling Center on McIntire Road (this location may be congested, please consider Darden Towe Park as an Alternate location that is less congested and is better suited for large loads and contract haulers.)
* Crozet Park in Park Drive
* Greenwood Community Center in Greenwood
* Chris Green Lake in Earlysville
* Darden Towe Park in Elks Drive
* Scottsville Community Center in Scottsville
* Walnut Creek Park off Old Lynchburg Road
For more information please contact the County Department of Parks and Recreation at (434)296-5844.
Alexandria - City residents who receive trash service must place their trees at the curb (no alley) Trees should be set at your regular yard waste collection point, on your trash collection day. The trees are then collected on the first two Saturdays in January. Put your tree out there by 7 am. Trees collected during this time will be ground into mulch and available to residents in the spring. To prepare trees for collection, residents are reminded to: Remove all ornaments, tinsel and stands. Do not place in plastic bags. For more information about Christmas tree recycling or spring mulch, call the City's Solid Waste Division at (703) 519-3486.
Arlington County - During the first two full weeks in January, Christmas trees are collected curbside for residential homes with trash and recycling service. Residents are reminded to place the tree on the curb no later than 6 a.m. on your regular trash collection day and to remove all decorations, nails, stands and plastic bags. The trees are later ground into wood mulch for garden use. Christmas Tree Drop-Off: Residents who don't have curbside recycling service, such as those living in townhomes, apartments or condominiums, may also bring their Christmas trees to the Solid Waste Bureau during the Christmas tree collection season. Call 703-228-6570 to schedule an appointment, Mon.-Friday, 8 a.m.-3 p.m. Residents will need to show proof of residence in Arlington, such as a driver's license. After Jan. 13, please prepare the tree for yard waste collection on your regular trash collection day. Once collected, trees will be recycled into mulch.
Chesapeake, VA - Christmas Tree Recycling - Every year the Public Works Department offers free disposal of your Christmas tree. We start collecting them right after Christmas and will be collecting Christmas trees on your regular collection day through January 13 . Don't forget to remove everything (ornaments, lights, tinsel) from your tree before bringing it to the curb. If it didn't originally grow on the tree, it needs to be removed. And be cautious of where you place the tree. Be sure it isn't blocking the flow of traffic, pedestrians or stormwater and keep it at least three feet away from any obstructions like mailboxes, telephone poles or cars.
Chesterfield County, VA - The county operates two convenience centers for household refuse disposal and recycling. These services are provided for county residents only. The sites accept waste generated from residential homes, including household waste, construction/demolition debris, brush and yard waste and bulky waste. For additional information , call 804-748-1297. Additionally, numerous recycling options are available at the sites.
Northern Area Convenience Center, 3200 Warbro Road
Southern Area Convenience Center, 6700 Landfill Drive
Falls Church, VA - Christmas trees are collected free of charge on Wednesdays in January and February (except on City-observed holidays). Placing your tree at the curb during the first 2 weeks in January ensures speedy collection. Place your Christmas Tree at the curb after removing plastic bags, rope, and all decorations, including tinsel. Residents who live in apartments and condominiums that receive private trash and recycling service may recycle trees by taking them to the brush collection area at the Fairfax County Citizens' Disposal and Recycling Facility, located at 4618 W. Ox Road, Fairfax, VA 22030.
Fairfax County - If you have country trash service, put your tree on the curb on trash day during the first two weeks in January. If you use a private trash service, call your company for instructions. Christmas trees may also be recycled during the first two weeks in January at either the I-66 Transfer Station or the I-95 Landfill Complex . There is a small processing fee of $1 per tree. Please remove tree stands, ornaments, tinsel, lights and tree toppers before recycling. Also see this page for more information .
City of Fredericksburg - Christmas Tree and Special Bulk Collection Public Works Department crews will collect Christmas trees and special bulk items during the second week of January,
James City County - No information available yet. See their website for updates.
Henrico County - Christmas Tree Recycling, now through the first full week in January.The free service, which preserves landfill space and the environment, is available to Henrico residents only. Trees will be accepted at the following locations:
Henrico Government Center, 4301 E. Parham Road, in the lower parking lot;
Eastern Government Center, 3820 Nine Mile Road, in the front parking lot;
Springfield Road Public Use Area, 10600 Fords Country Lane, near Nuckols Road and Interstate 295; and
Charles City Road Public Use Area, 2075 Charles City Road.
Trees can be dropped off anytime at the Henrico Government Center and Eastern Government Center and from 7:30 a.m. to 7 p.m. daily at the Springfield Road and Charles City Road public use areas. Trees must be free of tinsel, lights, ornaments, tree stands and water bowls. Free mulch is available to Henrico residents at the public use areas. For information on the tree recycling program, call (804) 727-8770.
Leesburg, VA - CSI will collect Holiday Trees (commonly called "Christmas Trees" by non-government people) for Recycling on the following days:
SE/SW (includes S. King St. & West Market St.) - Thursdays, January 7th & 14th
NE/NW (includes N. King St.) - Fridays, January 8th and 15th.
After Last Day of CSI Collection the Street Division May Collect Trees. Trees with a trunk size of less than 6" in diameter may be set out on Monday night for pickup by the Street Maintenance Division during their routine brush collection schedule. The crew circulates through town with the chipper truck on Tuesdays and Wednesdays and will collect trees curbside if they are out by Monday night.
Please keep the following in mind when preparing your trees for collection - these guidelines apply to both CSI Recycling and Brush Collection pickups:Remove stand from tree, Remove all decorations from trees - please check carefully for items hidden behind thicker branches or limbs, Remove tinsel, fake snow, angel hair, etc., Remove all lighting from trees, Remove all twine, metal or plastic ties and string. Place tree at curb the night before recycling day or Monday night for brush collection. Do not place in plastic bags or "Christmas Tree Disposal Bags". Remove stands and bases from trees.
Loudoun County, Virginia - Residents who receive curbside recycling services should contact their homeowners association, town office, or private waste collector for Christmas tree curbside recycling information. See Curbside Refuse and Recycling Collection for more information. From December 26, 2016, through January 20, 2017, Loudoun County will collect Christmas trees at several locations which are listed below. Each year, the county processes thousands of Christmas trees into mulch available for free to Loudoun residents. Locations: the Loudoun County landfill in Leesburg, the Lovettsville Game Protective Association, Franklin Park in Purcellville, South Riding Town Hall and Claude Moore Park in Sterling. Click here for the addresses and more information . Each year, the county processes thousands of Christmas trees into mulch available for free to Loudoun residents.
Christmas Tree Recycling Do's & Don'ts: Christmas trees should not be placed in bags. All decorations, light strands, tree stand, and bag should be removed before setting the trees out for recycling or taking them to any of the county's collection locations. The Christmas tree drop-off program is for residential use only. Tree vendors are welcome to use the Loudoun County Solid Waste Management Facility at 21101 Evergreen Mills Road, Leesburg, VA 20175 to recycle left over Christmas trees for $62/ton. For more information please call 703-771-5514.
Central Virginia, Richmond Area - If you live in Richmond, you can take your tree to any of the below areas through January 7th;
East Richmond Road Convenience Center, at 3800 East Richmond Road
Richmond Southside Transfer Station, at 3520 N. Hopkins Road
Residents can also leave their tree next to their "supercan" on trash day and it will be recycled.Please be sure to remove all decorations, tinsel, bulbs, wire and bolts from the tree. Unless indicated, sites will grind trees into mulch. Use of each site/option is restricted to residents of the sponsoring city or county only.
Note: Check dates and Hours of Operation for your specific locality below. christmas-tree-recycle
ASHLAND - Set tree at curb for collection by town crews.
CHESTERFIELD - Through January 31
Northern Area Convenience Center, 3200 Warbro Rd. off Genito Rd. or off Hull St. Rd. Click here for holiday hours and recycling tips (Monday, Tuesday, Friday through Sunday 9:30 am to 6 pm to closed holidays)
Southern Area Convenience Center, 6700 Landfill Rd. off Rt. 10 (Ironbridge Rd.) Click here for holiday hours and tips (Monday, Thursday, Friday through Sunday 9:30 am to 6 pm to closed holidays) No tree vendors!
COLONIAL HEIGHTS Starting January 3 to January 14, 2017 on Friday or Saturday.
Recycling Center, 2701 Conduit Road (behind Sheetz Gas Station) Fridays & Saturdays, 8 am to noon AND 1 to 5:00 pm (closed from 12-1 pm and holidays)
GOOCHLAND Through Jan. 31, 2017
Central Convenience Center, Rt. 632, near Rt. 522, 1908 Hidden Rock Lane (open 7 days a week)
Western Convenience Center, Rt. 606, 3455 Hadensville Fife Road (closed on Wednesdays) 7:30 am to 6 pm Sundays 1 pm- 6 pm
HANOVER December 26 through Jan. 31, 2017
Rt. 301 Transfer Station , Courtland Farm Rd. (Rt. 820) to 8a to 4p, Mon to Sat (closed Sunday and holidays)
Mechanicsville Center, 7427 Verdi Ln. (Rt. 710) to 7a to 7p, daily (closed holidays)
Courthouse Center, 7301 Courtland Farm Rd. (Rt. 820) to 7a to 7p, daily (closed holidays)
Beaverdam Center, 18400 Beaverdam Rd. (Rt. 715) to 7a to 7p, daily (closed holidays)
Doswell Center, 11224 Doswell Rd. (Rt. 688) to 7a to 7p, daily (closed holidays)
Elmont Center, 11045 Lewistown Rd. (Rt. 783) to 7a to 7p, daily (closed holidays)
Montpelier Center, 15188 Clazemont Rd. (Rt. 715) to 7a to 7p, daily (closed holidays)
HENRICO December 26 through Jan. 8, 2017 Christmas Tree Recycling Sponsored by Keep Henrico Beautiful Committee
Springfield Road Landfill Public Use Area, near Nuckols Rd and I-295 to 7:30a to 7p, daily, except holidays
Charles City Road Landfill Public Use Area to 7:30a to 7p, daily, except holidays
Eastern Henrico Gov't Center, 3820 Nine Mile Rd., front parking lot
Western Henrico Gov't Center, 4301 East Parham Rd. (near Prince Henry Dr.), lower parking lot
HOPEWELL Place undecorated live tree by trash cart. Tree will be not be recycled. Leave tree by garbage cart for collection by garbage crews (tree will not be recycled).
NEW KENT Rt. 618 Refuse Collection Center (Brush Recycling area) 6301 Olivet Church Road Open daily 7:30 am to 7 pm (check with County for any holiday closings)
PETERSBURG December 26 to Jan. 14, 2017
Tri City Landfill & Disposal Facility (no charge for tree recycling) In addition, residents of Petersburg can place undecorated live Christmas trees at the curb with their trash cart to be collected on their regular collection day. Remember, only 10 cubic yards of bulky waste, to include the tree, may...
Prince William County - Take your tree to the county compost facility in Manassas, Novec in Gainesville, Leesylvania State Park in Woodbridge or the county landfill in Manassas. RECYCLE YOUR CHRISTMAS TREE AND GREENERY
After you remove all ornaments, decorations, tinsel, nails and the tree stand, you may recycle your cut tree and greenery at several convenient locations.
The Prince William County Landfill, 14811 Dumfries Road in Manassas
Monday - Saturday, 6 a.m. to 6 p.m.; Sunday, 8 a.m. to 5 p .m.
The facility is closed New Year's Day.
The Balls Ford Road Compost Facility, 13000 Balls Ford Road in Manassas
Monday - Saturday, 7:30 a.m. to 5 p.m.; Sunday, 8 a.m. to 5 p.m.
The facility is closed New Year's Day.
Leesylvania State Park, 2001 Daniel K. Ludwig Drive in Woodbridge, off Neabsco Road
Trees may be dropped off at Shelter #2 and will be used for wildlife and aquatic habitats.
Northern Virginia Electric Cooperative (NOVEC), 5399 Wellington Branch Road in Gainesville December 26 to January 11, 2013
The drop off area is located in the parking lot in the area outlined with safety cones to the right of the building. For more information contact NOVEC at 703-335-0500 ext. 1633 or 1661, or novecrightofway@novec.com .
NOVEC will deliver the wood chip mulch to interested customer at no charge, visit www.novec.com for details.