Where and How to Recycle or Dispose of Christmas Trees in Texas in after Christmas in January 2020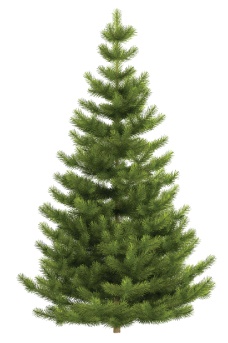 In many urban and suburban areas, Christmas trees are collected from curbside during the first 2 weeks in January. Be sure to remove all remove all lights, wire, tinsel, ornaments, nails, stands, other NON-Organic decorative materials and other materials that are not part of the original tree. This includes tree stands also. Flocked trees are usually accepted, but not artificial trees. Large trees (larger than the standard 6 - 7 ft tree) may need to be cut in half to be acceptable by your garbage hauler. But scrroll down this page for more specific information and local links.
What happens to the trees? In most cases, the trees are chipped and made into a mulch which is usually made available, free to city or county residents. Important: Never burn your Christmas tree in a fireplace or wood stove. Burning the tree may contribute to creosote buildup and could cause a chimney fire.
Tips: Always follow the links (usually the name of the city or county) below for updated information, as these agencies often wait until the last minute to change dates or update their information (it's government, remember?). If your area is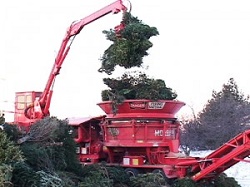 not specifically mentioned below, contact your trash collection agency and inquire!
Related information:
See this page for local options to easily recycle your Christmas holiday lights
If it has just snowed; see this page about how to make snocones from real snow! Your kids will love it!
Click here for the list of winter sleigh ride locations!
See our easy recipes to make a Chocolate Yule log and click here to make your own low-fat, low calorie but delicious Egg Nog ! Then come back to our other website in March to find a local Easter Egg Hunt for your children ! There are affiliate links on this page. Read our disclosure policy to learn more.
Texas: Where and How to Recycle Your Christmas Tree After the Holidays
Arlington, TX - It is recommended that Residents recycle Christmas trees by taking them to the mulching facility Center at the Arlington Landfill free of charge. Christmas Tree recycling will be held from December 26th through January 11th. The landfill is located at 800 Mosier Valley Road and Collins Street about one mile north of Green Oaks Blvd. and is open Monday through Saturday from 7 am until 4:30 pm, weather permitting.
Arlington residents may also drop off live Christmas trees to be recycled at the Calloway's Nursery located at 4940 S. Cooper Street. Christmas trees should be loaded into one of the containers on the north side of the building during business hours only. Please do not place next to containers. Please remove all ornaments, lights, tree stands, and plastic bags. Flocked trees are acceptable.
If you have questions about the landfill, please call 817-354-2300. Free mulch made from recycled Christmas trees and leaves collected through the leaf drop off locations, will be available to Arlington residents in the spring.
Please call the City's Action Center at 817-459-6777 for more information.
Trees placed curbside will be collected for trash. Trees taller than 6 feet must be cut in half for trash pick-up. Please do not take Christmas trees to the leaf recycling drop-off sites. F
Austin - Click here for locations, updated information and more details. City of Austin curbside customers can recycle their trees by leaving them at the curb on their regular collection day. All other residents can drop trees off at Zilker Park, the first two weekends in January. Please remove all decorations from tree. Trees will be composted into Dillo Dirt(TM).
City of Austin curbside customers can recycle their trees by leaving them at the curb on their regular collection day. All other residents can drop trees off at Zilker Park.


Curbside Collections


Starting December 26th, City of Austin curbside customers can recycle their trees at the curb! Please remove all decorations from tree. Please set out your tree by 6:30 a.m. on your regular collection day and remove all decorations and stands from the tree. Trees over 6 feet should be cut in half. Do not place tree in a plastic bag.


Zilker Park Drop-off


Not a City of Austin curbside customer? No problem! All residents can drop off their trees for recycling at Zilker Park. Trees with flocking (artificial snow) are not accepted, please remember to remove all decorations and stands. Drop off is between 10 a.m. to 2 p.m. on the following dates:
Saturday, Dec. 28, 2020
Sunday, Dec. 29, 2020
Saturday, January 4, 2020
Sunday, January 5, 2020
Trees collected will be turned into mulch and will be available for free on a first-come, first-served basis beginning January 16, 2020 at 9 a.m. (CALL BEFORE YOU GO!!Please bring your own tools and storage containers for loading and transporting the mulch.


There are also alternative Free Drop-Off Locations:


Tree will be accepted free of cost at the locations listed below. However, a contamination fee will be added to any trees with tags, decorations, and/or plastic remaining.
Texas Disposal Systems, TDS Landfill: 3016 FM 1327, Creedmoor, Texas
Texas Disposal Systems, Eco Depot: 4001 RR 620 South, Bee Cave, Texas
Organics By Gosh, 13602 FM 969, Austin, TX 78724
 | (512) 276-1211
Walker Aero Environmental (JV Dirt), 3600 FM 973 North Austin, Texas 78725
Whittlesey Landscape Supplies, 3219 S IH 35 Round Rock, Texas 78664,
Whittlesey Landscape Supplies, 629 Dalton Lane, Austin, Texas 78742
Travis County Transfer Station, 2625 Woodall Dr. Leander, Texas 78641
Travis County Service Center, 6013 Blue Bluff Rd Austin, Texas 78724
Del Valle Softball Complex (Behind the Southwest Rural Center), 3614 FM 973 Del Valle, Texas 78617


And there are Drop-Off Locations with a Fee

- See this page
Beaumont, TX - Recycle Your Christmas Tree - Citizens can drop off their live Christmas tree for recycling at three city parks Beginning December 26 through the second Friday in January, Beaumont residents can drop off their live Christmas trees at one of three city parks:
Magnolia Park, 2855 Magnolia Ave.
Rogers Park, 1455 Dowlen Road
Sprott Park, 4325 Usan St.
The drop-off service is available through the second Friday in January. Trees should be free of all decorations and stands. Trees also can be placed on the curb, and will be picked up during regular collection days. Commercial drop-off is not permitted. Christmas trees - along with other collected yard waste - is converted into mulch. Citizens are welcome to collect free much every Saturday between 7 a.m. and 1 p.m. at the city's landfill, located at 4955 Laffin Road in Beaumont.
Dallas - Please remove all tinsel, ornaments, lights and rope before you set out or drop off your tree. Note: A visitor tell sme that Home Depot is not taking trees this year.


Curbside collection:


Residents can also put their tree out for their regular brush / bulk pickup.
Christmas tree drop-off
Call the Dallas Zero Waste Hotline at 214-670-4475 for drop-off times and more information.Bring your real tree to the McCommas Bluff Landfill or the Northwest Transfer Station through Tuesday, January 6 to be recycled.
Northwest Transfer Station: 9500 Harry Hines Blvd, 75220
McCommas Bluff Landfill: 5100 Youngblood Rd, 75241.

El Paso, TX - Take your Christmas trees to any of the locations below to be recycled into mulch at not charge! Locations are open from 8 a.m. to 4 p.m. Tuesday through Saturday, closed on New Year's Eve and New Year's Day. Besides fresh trees, residents are also encouraged to recycle their cardboard gift boxes, wrapping paper, and holiday cards, all of which are accepted at the Citizen Collection Stations or in blue household recycling bins. Materials that cannot be recycled include: metallic wrapping paper, bows, ribbons, and foam. These items should be placed in the gray trash bins. To learn more, visit www.elpasotexas.gov/environmental-services or call 311.
South El Paso - 4200 Delta
Westside - 121 Atlantic
Eastside - 1034 Pendale
Central - 2492 Harrison
Northeast -4501 Hondo Pass
Fort Worth, TX - Live Christmas trees can be disposed of as part of the normal weekly yard waste pickup, or you can take it to a city drop-off station . Trees must be less than eight feet long; cut trees in two pieces if necessary. Be sure to take all your decorations, lights and tree stands off of the tree, and do not put the tree in a plastic bag. Flocked trees are accepted; artificial trees are not accepted for yard waste collection.All the trees collected in Fort Worth are recycled into mulch . Dropp off stations:
Brennan Drop-off Station, 2400 Brennan Ave.
Southeast Drop-off Station, 5150 Martin Luther King Freeway
Old Hemphill Road Drop-off Station, 6260 Old Hemphill Road
Hours: Monday to Friday: 8 a.m.-6 p.m. Saturday: 8 a.m.-5 p.m. Closed Sunday.
Closed Thanksgiving Day, Christmas Day and New Year's Day. Stations close at 5 p.m. the day before holidays. Click here for locations, updated information and more details.
Grapevine, TX - Put your tree out at the curb the night before, free of decorations and tinsel on January 2, 2020 and January 15, 2020 for Christmas Tree & Clean Brush Curbside Recycling Day
For more information, phone 817-410-3330 Plus Other Christmas Recycling Opportunities!
Batteries: Buy rechargeable batteries when you can. Keep used batteries in a plastic container and dispose of them at a City recycling event (MARCH & NOVEMBER) or at any Interstate Battery location.
Wrapping Paper: Use reusable gift bags or re-use gift wrapping when possible. Tearable/non-mylar wrapping paper may be recycled.
Packing materials: Use shredded paper when possible. Reuse Styrofoam or recycle clean, white Styrofoam at any City recycling event or it may be taken to Foam Fabricators (900 Keller Pkwy, Ste. 101, Keller, TX 76248 (817) 379-6520).
Electronics: Electronics may be recycled at the Electronics Recycling Container in the Animal Shelter parking lot (502 Shady Brook Drive).
Roll off Recycle Containers.jpg Cardboard: Cardboard boxes may be broken down and placed out for curbside recycling. Large amounts of cardboard may be brought to the Single Stream Recycling Container also located in the Animal Shelter parking lot (502 Shady Brook Drive).
Please contact the City's Environmental Services Division (817-410-3330) with any questions you might have regarding recycling this holiday season! Please contact the City's Environmental Services Division (817-410-3330) with any questions you might have regarding recycling this holiday season!
Houston, TX - Click here for locations, updated information and more details. Residents with City of Houston collection may place their tree curbside on their scheduled Tree Waste day and it will be recycled. The trees must have all decorations, ornaments, tinsel, lights and stands removed. Flocked trees cannot be recycled.
Residents can also recycle their trees by dropping them off at one of eighteen (26) free, drop-off, recycling sites located throughout Houston. The program runs from December 26, to second Monday (start counting Mondays AFTER New Year's Day) in January. All facilities are closed New Year's Day, January 1st. In addition to the drop-off locations, Trees that are collected for recycling will be ground into mulch that is available in bulk directly from Living Earth or available in bags as Living Earth Houston Mulch sold at Houston area retailers.
Trees may be dropped off at the following eighteen (18) locations city-wide, listed by open hours:.


OPEN Wednesday - Sunday 9 am to 6 pm


Central Neighborhood Depository - 2240 Central St.
Kirkpatrick Neighborhood Depository - 5565 Kirkpatrick
Sommermeyer Neighborhood Depository - 14400 Sommermeyer
N. Main Neighborhood Depository - 9003 N. Main
Southwest Neighborhood Depository - 10785 SW Freeway
Sunbeam Neighborhood Depository - 5100 Sunbeam


OPEN DAILY, 9am to 6pm


Kingwood (Branch Library)- Bens View Lane @ Bens Branch Drive
Doss Park (gates close at 5) - 2500 Frick Road (County Park)
Memorial Park (Ball Fields 4 and 5) - 7300 Memorial Drive
T.C. Jester Park - 4200 T.C. Jester West
Elington Airport Recycling Drop-off -HWY 3@ Brantley Road


OPEN Monday - Saturday 8am to 5pm (Westpark Closed January 1st)


Westpark Consumer Recycling Center - 5900 Westpark


LIVING EARTH - MON-FRI 7:00am to 5 pm and Saturday 7 am to 12pm


Living Earth will be closed December 31 and January 1st
Living Earth - 5802 Crawford Rd.
Living Earth - 1503 Industrial Dr, Missouri City
Living Earth - 1700 Highway 90A East, Richmond
Living Earth - 12202 Cutten Road
Living Earth - 16138 Highway 6
Living Earth - 5210 S. Sam Houston Pkwy E
Living Earth - 27733 Katy Freeway, Katy TX
Living Earth - 10310 Beaumont Highway
Living Earth - 17555 I-45 South, Conroe TX
Living Earth -20611 US Hwy 59, New Caney TX
Living Earth - 1000 FM 1266, Dickinson TX
Living Earth - 16955 Katy- Hockley Rd
Living Earth - 9306 FM 523, Freeport TX

For more information about the City of Houston Solid Waste Management Department and its services, residents may check online, like us on Facebook follow us on twitter @houstontrash or call 3-1-1, the City of Houston's Customer Service Helpline.

Lubbock, TX - Click here for locations, updated information and more details. Christmas Tree Recycling - Beginning, December 26th, the Solid Waste Services department will offer residents fresh cut Christmas tree Drop-off Recycling at the 2 permanent drop-off locations. Residents need to remove all decorations, metal stand, and any plastic before placing the fresh-cut Christmas tree in the roll-off located outside the gates at the 208 Municipal Drive and 1631 84th Street drop-off locations.
Starting January 6, 2020, and throughout the month of January, the roll-offs will be located inside the gates. Residents can drop off fresh-cut Christmas trees from 8 a.m. to 5:30 p.m. Monday to Saturday.
Pearland, TX - To recycle your tree properly, remove your tree from the stand, remove all tinsel (if you added any), lights and ornaments and recycle your tree by one of these options:


Option one: The Stella Roberts Recycling Center


For those of you who want to help restore our "Brazoria County" sand dunes via the Dunes Day Project take your Christmas tree to the Stella Roberts Recycling Center, 5800 Magnolia Dr. in Pearland, Texas during the centers operating hours, Tuesday - Friday 8 a.m. - 5 p.m., Saturday 9 a.m. - 1 p.m. - those dumping outside the gate when the center is closed can be fined up to $200. Trees will be accepted from Dec. 27 to January 11, 2020.


Option two: Manvel Location


Trees for the Dunes Project will also be accepted at the Brazoria County Precinct 2 Work Yard 7315 Corporate Dr. in Manvel, Texas during the yards operating hours, Monday to Thursday 7:30 a.m. - 5:30 p.m. This work yard is approximately 2 miles east of the SH288 and SH6 intersection. It is behind the Brazoria County Service Center (turn onto Corporate drive and pass the service center building). There is a cable link fence surrounding the work yard, with a gate that is unlocked during operating hours.


Option three: Green Waste Day


If you can't transport your tree, you live in a single-family dwelling and you are within Pearland City of limits, your tree can be set out curbside on your green waste day. These trees will go to a commercial composting facility where they are chopped up for mulch at the facility along with the rest of your green waste.
For more information about recycling, log on to mykpb.org or call 281.489.2795.
Plano, Texas - From December 26th through January 2nd, drop off stripped trees at one of the following locations:
Carpenter Park, 6701 Colt Road, Plano, TX 75024.
Old Shepherd Place Park, 1301 Winding Hollow Lane, Plano, TX 75093.
Russell Creek Park, 3500 McDermont Rd, Plano, TX 750
Schell Park, 2100 Laurel Lane, Plano, TX 75074.
Call 972-769-4150 for more information.
San Antonio, Texas - Recycle your Christmas Tree! The City of San Antonio provides sites throughout the City for residents to drop off their Christmas trees to be recycled into nutrient-rich mulch.

Event details and list of drop-off locations: English | Spanish. And Click here for locations, updated information and more details. And Texas Disposal Systems and Garden-Ville will also take Clean Christmas trees , holly, pumpkins and other living
decorations will be accepted FREE OF CHARGE from December 26th to January 1st. All items must be free of lights, ornaments, metal, flocking, and other non-living contaminants.
Customers of the City of San Antonio Solid Waste Department can turn their live Christmas trees into mulch by bringing them to one of nine locations from 8 a.m to 1 pm January 4, 2020, January 5, 2020, January 11, 2020 and January 12, 2020.
Residents who do not receive regular curbside collection from the Solid Waste Department for trash, recycling or organics but who do pay the environmental fee on their CPS Energy bill may participate as well.
At these drop-off locations, please note:At these drop-off locations, please note:
- Trees over 6 ft. should be cut in half
- All lights, decorations and stands, including wooden stands, should be removed
- Trees should not be bagged
- No wreaths, garlands or plants will be accepted


The nine locations are:


Rusty Lyons Sports Center - 6300 McCullough, 78212
Bitters Brush - 1800 Wurzbach Parkway, 78216
Southeast District Center - 7402 S. New Braunfels, 78223
Southside Drop-Off Center - 5450 Castroville Road, 78227
Northeast District Center - 10303 Tool Yard, 78233
Northwest District Center - 6802 Culebra Road, 78238
Nelson Gardens - 8963 Nelson Road, 78252
Eisenhower Park - 19399 NW Military Highway, 78257
Stone Oak Park - 20395 Stone Oak Parkway, 78258
In addition to these special dates and locations, the Bitters Brush and Nelson Gardens locations are open most every day from 8 a.m.-5 p.m. and will accept trees the entire month of January. Christmas trees can also be placed in the green organics carts for regular curbside collection service, but must fit loosely in the cart with the lid able to close. Cut the tree into sections if necessary. In one to two weeks after the special drop-off dates, free mulch will be available at the Bitters Brush and Nelson Gardens locations while supplies last. Visit www.sanantonio.gov/swmdfor more information.
Tyler, Texas - Each year on the day following Christmas until the second Sunday of January, the City of Tyler Solid Waste Department and Keep Tyler Beautiful provides two locations for Christmas tree recycling. Residents can drop off their undecorated, non-flocked natural Christmas trees in designated areas at Golden Road Park and Fun Forest Park in Tyler. Golden Road Park is located at the intersection of McDonald Road and Golden Road. Fun Forest Park is located in the 900 block of North Glenwood Boulevard. All lights, ornaments, garland and tinsel should be removed from the Christmas tree before dropping it off near the sign that says "Christmas Tree Recycling." The trees at the parks are available for area fishermen to pick up and sink in nearby lakes to create fish habitats. Small fish eat the aquatic insects that find a home in the tree branches. The fish also use the trees as a hiding place. As a result, the fishing is improved around the "recycled trees" because more fish congregate in these areas. Christmas trees will also be picked up at the curb for disposal at the landfill. Only non-flocked natural trees deposited at Fun Forest Park and Golden Road Park will be recycled. Flocking and tinsel may be hazardous to the fish and waterfowl. Flocking may also contribute to water pollution.
Waco, TX - Keep Waco Beautiful will host its annual "Chipping of the Green" Christmas tree recycling event, Saturday, January 9th at Paul Tyson Field Parking lot, on Lake Air Drive (just past the horse barn area of the Coliseum), from 10:00 a.m. until 3:00 p.m. After the holidays, load up your Christmas tree, bring it to be recycled, and receive a bag of wonderfully scented tree mulch plus a native Texas sapling. Mulching your tree is a wonderful way to end your holiday season and planting a native tree sapling is a great beginning to the New Year! For questions, call Keep Waco Beautiful at 750-5728 or email Sherri Street at: sherri6491@aol.com. And Click here for locations, updated information and more details.
Williamson County, TX - Rsidents can recycle Christmas trees at the Williamson County Landfill & Recycling Center. The landfill is located at 600 Landfill Road, between Highway 79 and Highway 29.