Permits to cut Christmas trees in state and national forests in Colorado
Want to cut your own from a national forest in Colorado?
Christmas tree permits, which allow you to cut your own Christmas tree on public lands, are now on sale at National Forest/BLM offices and selected retail outlets in southwestern Colorado.
The Rocky Mountain Region manages 17 national forests and seven national grasslands throughout Colorado, Kansas, Nebraska, along with most of South Dakota and Wyoming. Cutting a Christmas tree in a national forest is a tradition for many residents of the Rocky Mountain Region. In doing so, you take an active part in managing your national forests as you celebrate your own family's holiday tradition! To skip general tree cutting information and view cutting area maps:
Regional Christmas Tree Cutting Information Map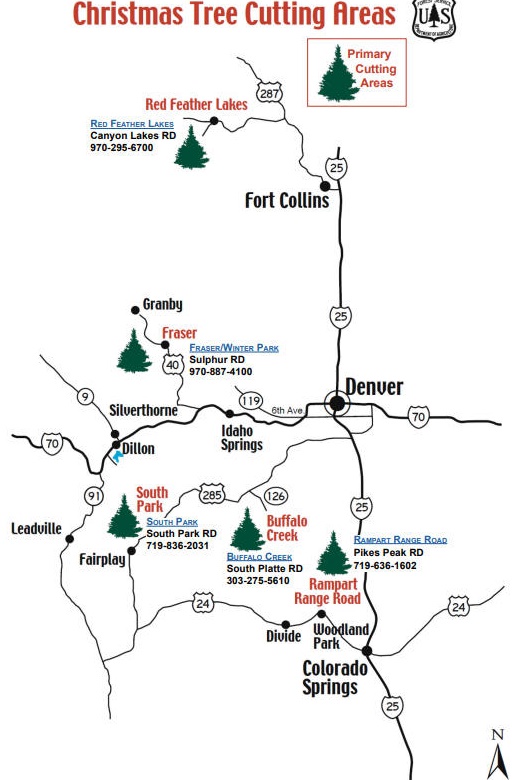 Colorado Christmas tree Cutting Map
This year's regional primary Christmas tree cutting dates are always set at the last minute (usually announced in late November) and take place in early December.
In order to provide some consistency for the region, primary Christmas tree cutting dates are set which means that all tree cutting areas in our region must be open between those dates. However, some areas allow cutting as early as Thanksgiving and some allow cutting until the end of the year.
Christmas tree cutting permits are generally available from most US Forest Service offices throughout the Rocky Mountain Region. Check out the informational links below or call the office of the closest
Ranger District
to the area you want to cut in to verify that they are offering Christmas tree cutting permits.

Call the Public Lands Information Center (PLIC) at 303-239-3838 for more information
or check out the informational links below.
There is now a centralized place online to buy a Christmas tree permit in a national forest in any state that has a forest that allows it; see this page on Recreation.gov.
See the following links below for specific information by location:
Denver and Front Range Areas: Four primary cutting areas along the Front Range in the Arapaho, Pike and Roosevelt National Forests serve metro Denver and surrounding communities (click to see a map ). See their website for more information! Core Cutting Dates: Call the park or forest to verify this year's adtes - they are usually announced in late November
Permits: $10 each (last reported). One tree per permit. Limit 5 permits per person. All sales are final.
Area Entry Hours: 8:30 am to 2:30 pm to For your safety, no entry is allowed before or after these hours.
Grand Valley District Christmas Tree Permits - Christmas tree permits will be available for purchase at Grand Mesa, Uncompahgre, and Gunnison National Forests (GMUG) office locations beginning November 20, for personal use. The cost per permit is $8.00 and may be purchased with cash, check or credit card at National Forest office locations. There is a maximum of five tree permits per person. More information here
Routt National Forest - 2019 Permits are $10 per tree with a maximum of five per household. Have your permit with you when cutting a tree, to be secured to the tree at the time of cutting.
San Juan National Forest - A 2019 permit, which costs $8, allows you to cut one tree up to 20 feet tall for personal use. The permits expire on December 31.
White River National Forest - 2019 Permits are $10 per tree and may be purchased at the WRNF offices or the BLM Field Office in Glenwood Springs, Monday through Friday during normal business hours. For additional information, please contact the White River National Forest in Carbondale at 970-963-2266 or the Glenwood Springs BLM Field Office at 970-947-2800.
Pike and San Isabel National Forests Cimarron and Comanche National Grassland - Permits become available in the fall and may be purchased at any ranger district office. Select each office to find out more about Christmas tree permits in the area below.
Colorado state forests:
Christmas tree cutting permits at Golden Gate State Park - Beginning November 12, a limited number of permits will be available for the Golden Gate Canyon State Park Christmas tree sale, just 30 minutes outside of the Denver metro area. All cutting activities will take plac on one weekend in early December. On Saturday, Dec. 7, 2019, Golden Gate Canyon State Park will hold a Christmas Tree Cut and Holiday Open House. The park is offering 250 permits for cutting a Christmas tree in selected areas of the park. The permit cost is $35 per tree, with a limit of two permits per household. Permit holders will be able to choose to arrive at either 9 am or 11 am for cutting their tree. This year, Christmas tree permits will be issued on a lottery system. From Friday, Nov. 1 through Tuesday, Nov. 12, applications will be available online by visiting our website at the following link: https://cpw.state.co.us/placestogo/parks/GoldenGateCanyon/Pages/default.aspx . No applications will be accepted over the phone, or in person at the visitor center. All applications must be submitted through our website. Permits not paid for by the deadline will be forfeited and another name will be selected. Payments can be made by credit card, or in person with photo identification. On Saturday, Dec. 7, all participants that purchased Christmas tree permits must check in at the visitor center to pick up their permit, prior to going out and cutting their tree. A valid park pass is required for each vehicle (either an annual state parks pass or an $8 daily pass), which can be purchased at the visitor center. The tree permits are valid rain or snow, and no refunds will be given for bad weather. Areas for both 4-wheel and 2-wheel drive vehicles will be available, and some hiking will be required. Permit holders with high clearance 4-wheel drive vehicles can use the pre-selected backcountry area and, in the case of bad weather, must have chains available for use. Access to the backcountry area will be limited to 9 am through 2 pm All other vehicles will be required to stay in the designated parking areas along the main park roadway. Access to these areas will be available from 9 am to 3 pm. Trees must be cut with hand tools, such as a handsaw or an axe. Chainsaws and power saws are strictly prohibited. Tree selections include Douglas fir, Ponderosa pine, Lodge pole pine and Rocky Mountain juniper. Christmas trees up to 15 feet tall or six inches in trunk diameter may be removed. . Permit holders will be assisting Golden Gate Canyon State Park by thinning overcrowded dense vegetation. This selective thinning will improve the overall forest health and reduce the impacts of future wildfires. For more current information, see this page or contact the Visitor Center at 303-582-3707.
General information
(Some of these external links and the search engine on their website may not work all of the time )
U.S. Forest Service, (303) 275-5350 (regional office in Denver)


Do you know of any Christmas tree farms or other special Christmas and winter events in Colorado? Please tell me about them - Click here to write to me!