Where and How to Recycle or Dispose of Christmas Trees in San Francisco & Bay Area, California in after Christmas in January 2020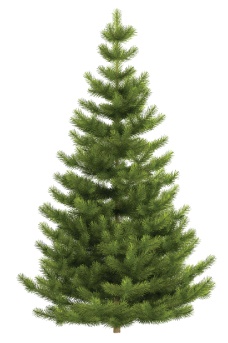 In many urban and suburban areas, Christmas trees are collected from curbside during the first 2 weeks in January. Be sure to remove all remove all lights, wire, tinsel, ornaments, nails, stands, other NON-Organic decorative materials and other materials that are not part of the original tree. This includes tree stands also. Flocked trees are usually accepted, but not artificial trees. Large trees (larger than the standard 6 - 7 ft tree) may need to be cut in half to be acceptable by your garbage hauler. But scrroll down this page for more specific information and local links.
What happens to the trees? In most cases, the trees are chipped and made into a mulch which is usually made available, free to city or county residents. Important: Never burn your Christmas tree in a fireplace or wood stove. Burning the tree may contribute to creosote buildup and could cause a chimney fire.
Tips: Always follow the links (usually the name of the city or county) below for updated information, as these agencies often wait until the last minute to change dates or update their information (it's government, remember?). If your area is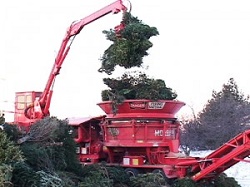 not specifically mentioned below, contact your trash collection agency and inquire!
Related information:
See this page for local options to easily recycle your Christmas holiday lights
If it has just snowed; see this page about how to make snocones from real snow! Your kids will love it!
Click here for the list of winter sleigh ride locations!
See our easy recipes to make a Chocolate Yule log and click here to make your own low-fat, low calorie but delicious Egg Nog ! Then come back to our other website in March to find a local Easter Egg Hunt for your children ! There are affiliate links on this page. Read our disclosure policy to learn more.
San Francisco & Bay Area, California: Where and How to Recycle Your Christmas Tree After the Holidays
If you do not find your area below (which is unlikely, this is a fairly comprehensive list), click here to contact your city or county's
recycling coordinator
direct.
According to the
National Christmas Tree Association's website
, "There are approximately 30-35 million Real Christmas Trees sold in the U.S. every year." Make sure your tree gets recycled to help the environment rather than become waste!
San Francisco is a leader in helping its residents to put their used Christmas tree to good use. by offering curbside pick up and drop off locations where trees will be accepted to be recycled. Look below on this page for both general tips and options specific to your local area. Not in the Bay area? See this page for Christmas tree recycling in other parts of California and the rest of the United States.
What Are Your Recycling Choices?
After the holidays, don't throw your natural tree away! Here are some tips on what to do with your tree after the holidays. In general, you have these options:
Curbside pick-up for recycling - Most areas will collect trees during their regular pickup schedules on the 2 weeks following Christmas. There are often requirements for size, removing ornaments, flocking, etc; see below for details.
Call for an appointment to have a non-profit in your area pickup your tree. Some boy scout troops are offering a pickup service for a small donation (often $5).
Take your tree to a drop off recycling center. Most counties have free drop-off locations throughout the county. Usually, you may take up to two trees to any of the following drop-off locations at no charge.
Cut the tree to fit loosely into your yard waste container.
Other tips and ideas
After the holidays, don't throw your natural tree away! Here are some tips on what to do with your tree after the holidays:
Removing the tree: The best way to avoid a mess removing your tree is to place a plastic tree bag (which are available at hardware stores) underneath the stand when you set the tree up! You can hide it with a tree skirt. Then, when the holidays are done, pull the bag up around the tree, stand and all, and carry it outside. Obviously, you will want to remove the stand before recycling the tree. If some needles do scatter inside, it is better to sweep them up; as needles can clog vacuum cleaners.
Tree Recycling / Mulching programs are a fast-growing trend in communities throughout the nation. Check below on this page or with your local department of public works for information. They chip and shred the trees, then make the mulch available for use in your garden. Your hauler will notify you of pick-up dates in your area. There are a few things you must do to make your tree ready for RECYCLING. Here are some general tips - but be sure to check with your local hauler - these are just general guidelines! To find your local hauler:
If it is Waste Management Inc (WM), click here to find your Local WM Service Provider's Website - or click here to contact Your Local WM Customer Service Center by Phone - find the 1-800 number of your Local Customer Service Center
If your local hauler is AW / BFI (Allied Waste) - Click here to locate the contact information for your local hauler.
Soil erosion barriers: Some communities use Christmas trees to make effective sand and soil erosion barriers, especially at beaches and on river beds.
Fish feeders: Sunk into private fish ponds trees make excellent refuge and feeding area for fish.
Bird feeders: Place the Christmas tree in the garden or backyard and use it as a bird feeder and sanctuary. Fresh orange slices or strung popcorn will attract the birds and they can sit in the branches for shelter. (Make sure all decorations, hooks, garland and tinsel strands are removed). Eventually (within a year) the branches will become brittle and you can break the tree apart by hand or chip it in a chipper. See this article from Perdue University for more information .
Mulch: A Christmas tree is biodegradable; its branches may be removed, chipped, and used as mulch in the garden. If you have a neighbor with a chip, see if he will chip it for you.
Paths for Hiking Trails - some counties use the shredded trees as a free, renewable and natural path material that fits both the environment and the needs of hikers!
Living, rooted trees: Of course, next year, you could get a rooted (ball and burlapped or containerized) tree and then plant it in your yard after Christmas (It's a good idea to pre-dig the hole in the late Fall while the soil is still soft, then plant the tree into that hole immediately after Christmas.) NOTE: Living trees have a better survival rate in mild climates, than in a northern area.

Important: Never burn your Christmas tree in a fireplace or wood stove. Pines, firs and other evergreens have a high content of flammable turpentine oils. Burning the tree may contribute to creosote buildup and risk a chimney fire.
---
Unless otherwise noted, all stands, lights, decorations, and tinsel must be removed. Artificial Christmas trees can not be recycled. They must go out with the garbage.
General tips for most haulers:
Remove all ornaments, tinsel, lights, and other NON-Organic decorative materials. This includes tree stands also.
Trees are often required to be cut into 4 ft lengths; so you may need to cut your tree in half. In some locales, the trees must be cut small enough to fit inside your green (yard waste) container.
In most Bay area locations flocked trees may not be recycled; they must go into the trash. Flocked trees often have special requirements, due to the chemical content. Some will need to be chopped-up and disposed with regular solid waste, other recyclers have special drop off locations where they can handle them safely. If your tree is flocked check the links below for special requirements for your area, and call your facility or hauler to be sure nothing has changed!
Trees are usually collected curbside for two weeks after Christmas.
FREE Drop-off locations are also commonly available
If you miss the collection period, you can cut-up the tree and place it in your green (yard waste) container for pick-up on the regularly scheduled service day; assuming your area has a yard waste collection program to which you subscribe.
Click on the links below to find your local Christmas tree recycling options.
Some of these links take you to a Earth911.org page for your state, and you will need to click on the name of the city closest to you. In others cases, specific local options are below:
---
San Francisco, Bay area and Surrounding Counties
San Francisco - See this website for SF residents information. San Francisco residents and businesses may recycle their Christmas trees in several ways:
1) Curbside Pick Up from Wednesday, January 2 through Friday, January 10, 2020.(On the resident's regular recycling day) If you missed your collection date, please contact Recology by calling (415) 330-1300.
2) Drop Off at Haight-Ashbury Neighborhood Council from January 2 through Friday, January 10, 2020. at 780 Frederick St. or
3) Drop Off at Golden Gate Disposal and Recycling from January 2 through Friday, January 10, 2020. at 900 7th St./Berry

Instructions: No flocked trees (sprayed with fake snow),
Remove any metal or plastic base (wood bases are okay)
Remove all lights, tinsel and other decorations
No trees in plastic bags

Also see the Sunset Scavenger Curbside Program , San Francisco, CA 94134. Phone: (415) 330-1300. Open: Please call for their curbside collection schedule.
Surrounding areas
Alameda County (and surrounding bay area counties)
Marin County - County customers see the graphic at right. Curbside Collectionfrom January 2 to January 14, 2020.
Novato Disposal customers put whole trees by the curb for the regulatr collection for the first week in January. Trees may also be cut to fit inside your yard waste container for collection on your regular service day. Remove all lights, tinsel, ornaments and stands. Flocked trees arel not be collected.
The same is true of other cities in Marin COunty: undecorated, unflocked trees can be placed curbside on collection day for the first week in January.
Napa County and also see this Boy Scouts-sponsored curbside Christmas tree pickup!
Sacramento County Recycle your Christmas tree for free. Call for this years dates (they rarely publish them online) 916-875-4047. Limit 5 trees per vehicle*. Please remove ornaments, tinsel, lights, tree stand, and nails. Flocked trees will be accepted.
Elder Creek Recovery & Transfer Station
8642 Elder Creek Road (Jackson Hwy, south on Florin Perkins Road, left on Elder Creek Road)
8 am - 3 pm,
Kiefer Landfill
12701 Kiefer Blvd (Jackson Hwy, north on Grant Line Road, right on Kiefer Blvd)
8:30 am to 4:30 pm
North Area Recovery Station
4450 Roseville Road (Hwy 80, north on Watt Ave, left on Roseville Road, inside Recovery Station)
8 am - 6 pm,
SMUD Corporation Yard
6100 Folsom Blvd (just off Hwy 50)
8 am - 3:30 pm, January 9 only
Sacramento Recycling and Transfer Station
8491 Fruitridge Road (Jackson Hwy., south Florin Perkins Road, right on Fruitridge Road)
8 am - 5 pm, January 9
Also accepting trees December 26th - January 31, Monday - Friday, 8 am - 5 pm
In Folsom:
Dan Russell Rodeo Arena
Folsom City Park (end of Stafford Street next to the Rodeo Arena)
9 am - 3 pm, January 9 and 10
San Mateo County - Dates may vary -
call or see their website before you go!!!

Santa Clara County Holiday Tree Collection - Trees will be collected the week of January 6, 2020 to January 10, 2020. Please follow the set-out instructions:
Strip the tree and set out on your regular collection day. The City does not collect trees on private streets. Residents of multi-family dwellings may set out their trees on the nearest public street. Call (408) 615-3080 to find out what day we will be servicing your area. If you miss your pick-up day, you can bring in your tree (no larger than 9 feet) to the Corp Yard located at 1700 Walsh Avenue during the week of January 7-11
After January 10, 2020 cut up your tree and place the pieces in the Clean Green cart. Flocked trees (trees with artificial snow) should be placed in the garbage cart.
Santa Cruz (city website)
Free Pick Up of Christmas Trees during the first 2 weeks in January. The City of Santa Cruz offers residents two date options for free pick up of Christmas trees. Residents may also drop their trees off at the Resource Recovery Facility throughout the month of January at no charge. In all cases, ornaments, tinsel and stands must be removed. Flocked trees will not be accepted. Residents who desire curbside pickup service must put their tree out on their regularly scheduled trash collection day. Trees must be 6 feet in length or less; therefore trees may need to be cut.
City of Watsonville: early January
City of Scotts Valley: first 2 weeks in January
City of Capitola: first 2 weeks in January
County: first 2 weeks in January - cut the tree into 3′ lengths (/ GreenWaste Recovery customers only)
Trees need to be cut into pieces no longer than 6 feet in the four cities mentioned above. Residents outside of the limits of these cities will need to cut their trees into 3′ pieces.
Free Christmas Tree Drop-Off
From December 26 through mid-January you can drop your Christmas tree off for recycling at any of the locations on their website (mostly fire stations). Drop-off is during daylight hours, except where otherwise noted below.
Solano County - Most cities in Solano County have curbside pick-up on specific dates in early January. Look on your town's website for dates and give them a call to schedule your pick-up if it isn't accepted curbside on collection day..
Sonoma County

The annual Sonoma County Christmas Tree Collection Program runs the first two weeks in January.
Also visit the related section on this Sonom,a County website. Christmas Tree Recycling Programs by City

Note about Monterey Pine disposal: take precautions when disposing of your Christmas trees this year to help control the spread of pine pitch canker, an incurable disease that has killed thousands of Monterey pine trees. Pine pitch canker, a fungal disease recently introduced to California, causes dieback and mortality in native and ornamental pine trees. It may also infect Monterey pine Christmas trees. While every attempt is made to sell only disease-free Christmas trees, some trees could harbor the disease without showing symptoms. Since there is no known cure for pitch canker, limiting its spread is the key to prevention. The disease is present in 16 coastal and adjacent inland California counties from Mendocino to San Diego. Bark beetles, which carry the fungus, primarily infest Monterey and Bishop pines but also feed and breed on inland forest trees such as Ponderosa pine. As yet, the disease has not been found in the Sierras. It does not infect humans, pets or other plants. Just be sure your tree is sent to a yard waste disposal program in the curbside pickup, or taken to a dropoff center. Don't simply leave it in the back yard!