Cut Your Own Christmas Tree in the Mt. Hood National Forest for $5
Clackamas River & Zigzag Ranger Districts Mt. Hood National Forest
Yep, you can go in the foirest and cut your own Christmas tree for 10 bucks. There ARE some rules; like you need a permit, and it is a national forest, so you can't use a chain saw, and you need to take care not to damage the place, but here are the rules:
The Mt. Hood National Forest will begin selling personal use holiday tree cutting permits at our ranger district offices'visitor centers as well as at many other local vendors at the beginning of November.
Tree Permit Details:
Permits sell for $5.00 each (cash, check, or card)
There is a limit of five permits per household.
Your permit allows cutting a holiday tree up to 12 feet tall
When purchasing your permit you will receive an informational sheet with great information on rules of cutting holiday trees from the national forest. .
For additional information you may also visit the Mt. Hood Special Forest Products webpage.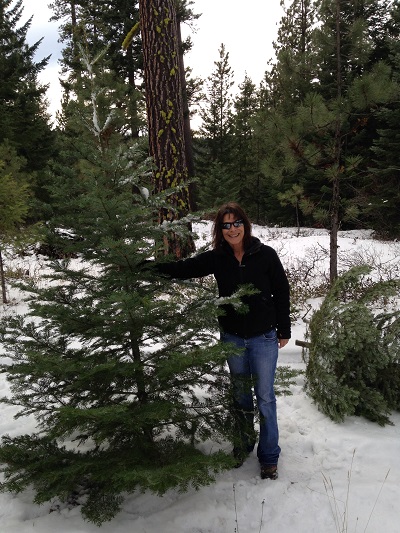 Rules
There must be another tree of similar size free to grow within 8 feet of the one you cut.
Each permit allows you to cut one tree up to 12 feet in height with a stump height no greater than6 inches.
Cutting the top of a standing tree is prohibited.
No cutting or removing trees within:
Wilderness
Research Natural Areas
100 feet of a trail
Campgrounds or Administrative sites
300 feet of streams or lakes
Areas posted "No Christmas Tree Cutting"
East of Little Crater Lake Campground on Road 58, because of Warms Springs Indian Reservation
Do not remove Pacific Yew trees
Campgrounds, Administrative sites, or Summer
Home/Rec. Residence Areas
No cutting along the following roads:
Highway 26
Highway 224
Road 42 (Timothy Lake Road)
Road 50 (Timberline Road)
Road 2645 (Westleg Road)
Road 2618 (Salmon River Road)
Road 2627, 2627-207
Bough permits
The Mt. Hood National Forest currently offers Free Use Bough Permits (available at no charge) for up to 25 pounds of boughs, and Commercial Bough Permits for larger quantities. Permits for boughs are not available at local vendors. Bough permits are only available at Mt. Hood National Forest district offices. You must have a permit to harvest boughs.
Got a 4th Grade Student?
As a part of the "Every Kid" program, all fourth-graders can receive a holiday tree permit for free this season! They must have their Every Kid pass or voucher with them in order to receive their free holiday tree permit, and they must be accompanied by their parent or guardian. These special holiday tree permits can only be obtained at our official ranger district offices. For more information on the "Every Kid" program, please visit www.everykidinapark.gov .
Holiday Tree Permit vendor locations:
Here's where to get the tree-cutting permit.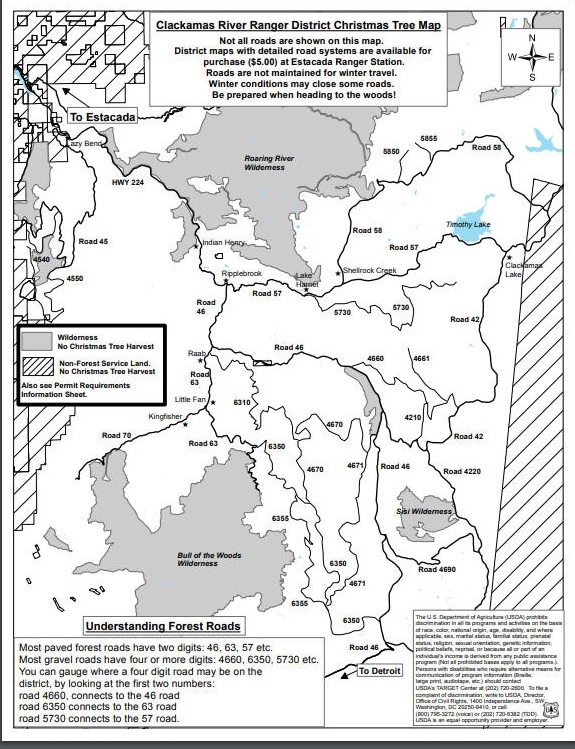 (Call for December weekend/holiday hours and information)
Barlow Ranger District, Dufur Ranger Station, 780 Court Street, Dufur, OR (15 miles south of The Dalles) 541-467-2291
Monday through Friday, 7:45 a.m. to 4:30 p.m.
Clackamas River Ranger District, 595 NW Industrial Way, Estacada, OR. 503-630-6861
Monday through Friday, 7:45 a.m. to 4:30 p.m. (closed from 11:30 to 12:30 for lunch)
Hood River Ranger District, 6780 HWY 35, Mt. Hood-Parkdale, OR. 541-352-6002
Monday through Friday, 8:00 a.m. to 4:30 p.m., Saturday, Dec. 3 and Dec. 10, 9:00 a.m. to 2:00 p.m.
Zigzag Ranger District, 70220 E. HWY 26, Zigzag, OR. 503-622-3191
Monday through Friday, 7:45 a.m. to 4:30 p.m. (closed from 12:00 to 1:00 for lunch)
Tygh Valley General Store, TV Road, Tygh Valley, OR. 541-483-2324
Open Monday through Friday, 7:00 a.m. to 6:00 p.m., Saturday & Sunday 8:00 a.m. to 6:00 p.m.
Kramers Market, Main Street, Dufur, OR. 541-467-2455
Open Monday through Saturday, 7:00 a.m. to 7:00 p.m., Sunday 8:00 a.m. to 5:00 p.m.
Estacada Tackle Shop, 210 SE Hwy 224, Estacada, OR. 503-630-7424
Monday through Saturday, 6:00 a.m. to 10:00 p.m., Sunday 6:00 a.m. to 8:00 p.m.
Sportsman's Warehouse: 9401 SE 82nd Ave, Portland, OR. 503-777-8700
Open Monday through Saturday, 9 am to 9 pm
Sportsman's Warehouse: 18645 NW Tanasbourne Dr, Hillsboro, OR. 503-844-9100
Open Monday through Saturday, 9 am to 9 pm, Sunday 10 am to 6 pm
Mt. Hood Village Market: 73265 East Highway 26, Rhododendron, OR 97049. 503-622-4652
Open Daily: 5:00 a.m. to 12:00 p.m.
Tum-A-Lum Lumber, 408 Hwy 35, Hood River, OR. 541-386-1001
Open Monday through Friday, 7:00 a.m. to 5:30 p.m., Saturday 8:00 a.m. to 5:00 p.m.,
Sunday 8:00 a.m. to 4:00 p.m.
ACE Heritage Hardware, 39181 Pioneer Boulevard, Sandy, OR. 503-668-8731
Open Monday through Saturday, 8:00 a.m. to 6:00 p.m., Sunday 9:00 a.m. to 5:00 p.m.
Hoodland Thriftway, 68280 East Highway 26, Welches, OR. 503-622-3244
Open Daily: 7:00 a.m. to 11:00 p.m.
Other recommendations:
Winter weather in the forest can change rapidly. Forest Service roads are not maintained for winter travel. Please carry traction devices and be advised of winter road closures and snow park permit requirements. The Forest Service recommends you start early in the day and be out of the forest before dark. Keep your family and your own safety in mind as you head out to look for a holiday tree. Dress warmly and carry a forest map, snacks, and water. Do not rely solely on your GPS as some information may not be accurate or up-to-date. Also make sure friends or family know where you are going and when you plan to return. Plus, don't forget a tool to cut your tree and rope or cord to secure it to your vehicle.
Dress warmly for winter weather
Have a full tank of gas
Bring food, extra water, a shovel, a blanket, a first-aid kit and a warm drink
Leave pets at home or have them on a leash at all times
Take a rope and tarp to pack your tree home
Forest health is important, by removing these smaller trees you are contributing to the overall well being of the forest and reducing fire danger.
Warning:
Persons cutting or removing trees from the National Forest without a valid permit are subject to a fine of up to $5000 and/or 6 months imprisonment!
Free Boughs
Free Holiday Boughs are also available with a permit form your local Ranger Sation. If you would like more than 25 pounds of boughs a permit is available for purchase at your local District Ranger office. Personal use bough harvest must adhere to the following restictions
25 pounds of personal use boughs may be harvested and transported per vehicle.
Boughs may only be harvested from the lower half of the tree.
Only the outter half of each bough may be harvested.
Felling trees is prohibited.
Harvesting Cedar boughs is Prohibited.
Boughs may not from trees 10 feet tall or less.
Personal use boughs may not be resold.
Boughs may only be harvested from areas open to christmas tree cutting.

More information:
Please call our District Office at 719-636-1602 for more info.