Where and How to Recycle or Dispose of Christmas Trees in New York in after Christmas in 2018 and January 2019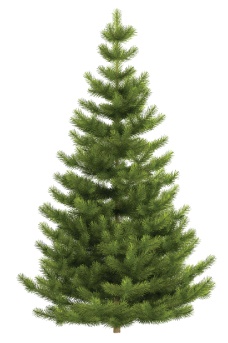 In many urban and suburban areas, Christmas trees are collected from curbside during the first 2 weeks in January. Be sure to remove all remove all lights, wire, tinsel, ornaments, nails, stands, other NON-Organic decorative materials and other materials that are not part of the original tree. This includes tree stands also. Flocked trees are usually accepted, but not artificial trees. Large trees (larger than the standard 6 - 7 ft tree) may need to be cut in half to be acceptable by your garbage hauler. But scrroll down this page for more specific information and local links.
What happens to the trees? In most cases, the trees are chipped and made into a mulch which is usually made available, free to city or county residents. Important: Never burn your Christmas tree in a fireplace or wood stove. Burning the tree may contribute to creosote buildup and could cause a chimney fire.
Tips: Always follow the links (usually the name of the city or county) below for updated information, as these agencies often wait until the last minute to change dates or update their information (it's government, remember?). If your area is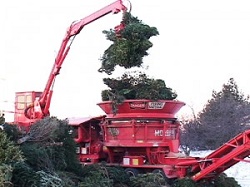 not specifically mentioned below, contact your trash collection agency and inquire!
Related information:
See this page for local options to easily recycle your Christmas holiday lights
If it has just snowed; see this page about how to make snocones from real snow! Your kids will love it!
Click here for the list of winter sleigh ride locations!
See our easy recipes to make a Chocolate Yule log and click here to make your own low-fat, low calorie but delicious Egg Nog ! Then come back to our other website in March to find a local Easter Egg Hunt for your children !
New York: Where and How to Recycle Your Christmas Tree After the Holidays
County breakdown
Broome County - Christmas trees are recycled into mulch or compost. Be sure to remove all decorations, plastic bags and tinsel before disposal. FREE Drop-off Locations for RESIDENTS ONLY.
NYSDEC Sub-office, Kirkwood, NY: Will accept trees between 8 am and 4 pm at 1679 Route 11. The trees are chipped and spread along hiking trails in the parks.
Broome County Landfill, 286 Knapp Rd., Binghamton NY: Will accept trees at the residential drop-off area located at the landfill from December 27, 2016-January 31, 2017. Open Monday through Friday 7 am-2:45pm and Saturday 7 am-11:45am. The trees are chipped and composted.
Grippen Park, Endicott, NY:Will accept trees from December 26, 2016 to January 7, 2017. During daylight hours. The trees are chipped.
Residents with municipal and private curbside service should contact their garbage hauler for more information.
Cayuga County - Residents can bring their Christmas trees to the Natural Resource Center at 7413 County House Road in Sennett. The center is open from 8 a.m. to 4 p.m. through Friday; and Monday through Jan. 13; and 8 a.m. to noon Saturday. Residents bringing in their Christmas tree for recycling will be able to pick up on May 4 at the Natural Resource Center a free Douglas fir transplant seedling for planting.
Madison County - Trees and wreaths can be dropped off at the county landfill on Buyea Road in Lincoln and transfer stations in Cazenovia, Hamilton and Sullivan for free. Recycling coordinator Sharon Driscoll said the trees will be processed with brush and branches and turned into mulch, which residents can pick up for free in the spring. Some towns and villages also handle trees.
Monroe County - residents can once again recycle their Christmas trees, free of charge, at several locations across Monroe County. Most drop-off locations will accept trees throughout the end of January. Please click on the link below for a list of tree drop-off and pickup dates and locations in Monroe County's towns and villages, the City of Rochester and participating businesses. Click here for locations, updated information and more details
Onondaga County - See this page for a town by town breakdown in the Syracuse area.
Oswego County - Residents can bring their Christmas trees to the Bristol Hill Landfill in Volney, where the trees will be composted. The landfill is open from 7:30 a.m. to 4 p.m. Monday through Friday and 8 a.m. to noon Saturday. Some towns and villages also handle trees.
Saratoga County - The following towns collect trees from curbside. Decorations must be removed. Real Christmas Trees ONLY, we do not pick up artificial trees. If longer than 7 feet than the trees will need to be cut down. Remove everything from your tree (especially tinsel), these are going to a tree farm so they can not have anything on them
Town of Ballston January 19th Wednesday, January 18, 2017 for All Town Residents
Town of Clifton Park January 9th - January 13th Sunday, January 08, 2017 for All Town Residents
Town of Glenville January 16th - January 20th Sunday, January 15, 2017 for County Waste Customers Only
Town of Halfmoon January 5th & January 6th Wednesday, January 04, 2017 for County Waste Customers Only
Town of Schaghticoke January 16th Sunday, January 15, 2017 for All Town Residents
Town of Wilton January 4th Tuesday, January 03, 2017 for County Waste Customers Only.
Tioga County - Most villages provide tree pick-up or drop-off for their residents. Call your village for more information. If you live in a rural area, lay the tree out where the branches can offer shelter for birds and other wildlife. Waterman Conservation Education Center will accept old Christmas trees at its 403 Hilton Road location in Apalachin. Trees can be dropped off at the center's parking lot. For more information, call 625-2221. HOWEVER YOU RECYCLE YOUR TREE REMOVE ALL LIGHTS/DECORATIONS/TINSEL/TREE STAND!!
Tompkins County - Christmas Tree and Wreath Recycling. Some municipalities in Tompkins County provide convenient options for recycling trees and wreaths into compost and mulch. The Recycling and Solid Waste Center also accepts these items free of charge as yard waste. Get all the details in this guide . Please remove any decorations first.