Where and How to Recycle or Dispose of Christmas Trees in New Mexico in January 2018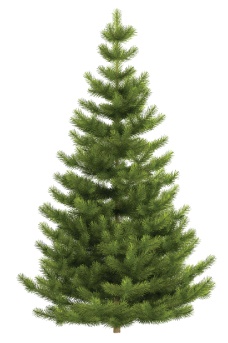 In many urban and suburban areas, Christmas trees are collected from curbside during the first 2 weeks in January. Be sure to remove all remove all lights, wire, tinsel, ornaments, nails, stands, other NON-Organic decorative materials and other materials that are not part of the original tree. This includes tree stands also. Flocked trees are usually accepted, but not artificial trees. Large trees (larger than the standard 6 - 7 ft tree) may need to be cut in half to be acceptable by your garbage hauler. But scrroll down this page for more specific information and local links.
What happens to the trees? In most cases, the trees are chipped and made into a mulch which is usually made available, free to city or county residents. Important: Never burn your Christmas tree in a fireplace or wood stove. Burning the tree may contribute to creosote buildup and could cause a chimney fire.
Tips: Always follow the links (usually the name of the city or county) below for updated information, as these agencies often wait until the last minute to change dates or update their information (it's government, remember?). If your area is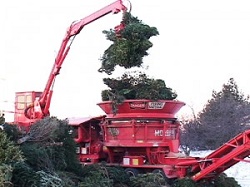 not specifically mentioned below, contact your trash collection agency and inquire!
Related information:
See this page for local options to easily recycle your Christmas holiday lights
Click here for the list of winter sleigh ride locations!
See our easy recipes to make a Chocolate Yule log and click here to make your own low-fat, low calorie but delicious Egg Nog ! Then come back to our other website in March to find a local Easter Egg Hunt for your children !
New Mexico: Where and How to Recycle Your Christmas Tree After the Holidays
Albuquerque, New Mexico
Residential customers can drop off Christmas trees for FREE recycling from 8 am to 5 pm, January 2 to 12.
Tree Recycling Locations:
Montessa Park Convenience Center, 3512 Los Picaros SE, Phone: (505) 873-6607.
Eagle Rock Convenience Center, 6301 Eagle Rock NE. Phone: (505) 857-8318.
Ladera Golf Course, Coors and Ladera NW. Phone: (505) 836-4449.
There is no charge to drop-off your Christmas Tree. Regular fees apply to dispose of other trash and yard waste. Trees are limited to five per customer. Christmas trees will be chipped on site and available free to the public to use as mulch while supplies last. By recycling your Christmas tree, you are saving valuable landfill space and giving back to the environment.

Santa Fe, New Mexico
The city will be accepting Christmas trees for mulching free of charge starting on December 26 and continuing until January 26, all residents in the City of Santa Fe can drop off their

un-flocked

and de-ornamented tree at the following locations:
Buckman Road Recycling and Transfer Station (BuRRT), 2600 Buckman Road
Newman's Nursery, 7501 Cerrillos Road
Payne's Nurseries: 304 Camino Alire and 715 St. Michael's Drive
Franklin Miles Park, Camino Carlos Rey and Siringo Road
Please be sure that all ornaments, tinsel and lights are removed from the tree. Flocked trees (trees sprayed with artificial snow) are not accepted because the chemicals will contaminate the mulch. The mulch from the City will be used in the parks for landscape and erosion control and will be available free to the public in the Franklin Miles Park parking lot.
City residential curbside customers can recycle at no additional cost and can drop by 1142 Siler Road, Building A to pick up free recycling bins.
For more information, visit their website or call: Environmental Services at 505-955-2200 or Santa Fe Solid Waste Management Agency - 505-424-1850

Christmas Light Recycling in Sante Fe
Residents and businesses in the City and County of Santa Fe can recycle their broken or unwanted Christmas lights for FREE. Rather than tossing in your trash, these lights can be stripped for their valuable metals and recycled, keeping them out of our landfill. All types of string lights are accepted, including icicles and LEDs. The bulbs are okay to leave on. You can drop them off for no charge at any of the following locations:
Buckman Road Recycling & Transfer Station (BuRRT), 2600 Buckman Road, Santa Fe.
Capital Scrap Metal - will pay $0.80 per pound, 1162 Cooks Lane, Santa Fe.
City of Santa Fe, Environmental Services Division, 1142 Siler Road, Santa Fe.
County Transfer Stations - All transfer stations are accepting lights.