Where and How to Recycle or Dispose of Christmas Trees in Nevada in after Christmas in 2019 and January 2020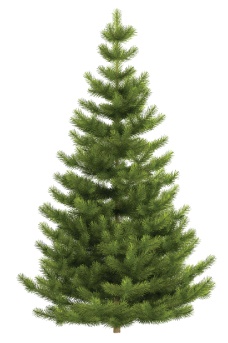 In many urban and suburban areas, Christmas trees are collected from curbside during the first 2 weeks in January. Be sure to remove all remove all lights, wire, tinsel, ornaments, nails, stands, other NON-Organic decorative materials and other materials that are not part of the original tree. This includes tree stands also. Flocked trees are usually accepted, but not artificial trees. Large trees (larger than the standard 6 - 7 ft tree) may need to be cut in half to be acceptable by your garbage hauler. But scrroll down this page for more specific information and local links.
What happens to the trees? In most cases, the trees are chipped and made into a mulch which is usually made available, free to city or county residents. Important: Never burn your Christmas tree in a fireplace or wood stove. Burning the tree may contribute to creosote buildup and could cause a chimney fire.
Tips: Always follow the links (usually the name of the city or county) below for updated information, as these agencies often wait until the last minute to change dates or update their information (it's government, remember?). If your area is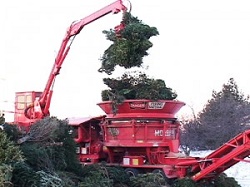 not specifically mentioned below, contact your trash collection agency and inquire!
Related information:
See this page for local options to easily recycle your Christmas holiday lights
If it has just snowed; see this page about how to make snocones from real snow! Your kids will love it!
Click here for the list of winter sleigh ride locations!
See our easy recipes to make a Chocolate Yule log and click here to make your own low-fat, low calorie but delicious Egg Nog ! Then come back to our other website in March to find a local Easter Egg Hunt for your children ! There are affiliate links on this page. Read our disclosure policy to learn more.
Nevada: Where and How to Recycle Your Christmas Tree After the Holidays
Boulder City, NV - From December 26 - January 15, you may drop-off your Christmas tree for free at the Bravo Ball Field parking lot located at the corner of Avenue B and Sixth Street (south of the public pool and racquetball complex). Remove all non-organic objects such as lights, wire, tinsel, ornaments and nails. Foreign objects contaminate the mulch and damage the chipper. Trees that have artificial snow on them cannot be recycled. We encourage you to use mulch for landscaping! Please bring a shovel and container and pick up some free mulch at Acacia Demonstration Gardens in Henderson, December 26 through January 14. For more information about the Christmas Tree Recycling Program and other drop-site locations please visit www.springspreserve.org/apps/tree-recycle/index.cfml . or call (702) 293-9200 and they can assist you!
Carson City, NV - During the week of Jan. 1-5, either leave your tree (6 ft. sections or smaller) curbside on your regular trash day or drop off at the designated boxes at the following locations:
- The parking lot of Big Lots at Clearview and South Carson Street
- Public Works Yard at Butti and East Fifth Street
- Bully's parking lot, 3530 North Carson Street
- Waste Management Parking lot at 5560 Sheep Drive
- Carson City Landfill (Green Waste Pile)
After Jan. 6 2018 please take your Christmas Tree to the Carson City Landfill for recycling. Trees left curbside after Jan. 6 will be disposed of as garbage and will need to be cut into three foot sections so they will fit into the Waste Management trucks.If you have questions call 775-887-2355 ex 7376.
Clark County, NV
The Christmas Tree Recycling Program operates from Dec. 26 to Jan. 15 with more than 30 drop-off sites throughout the community. To find the closest one to you, visit the Las Vegas Springs Preserve website page.
Locations include several parks and Lowe's stores and these sites: For more Information, click here .
Clark County
- Sunset Park, 2601 E. Sunset at Eastern
- Desert Breeze Park, 8275 Spring Mountain Road at Durango (behind the community center)
- Mountain Crest Park, 4701 N Durango Drive at Lone Mountain Road.
- Las Vegas Springs Preserve, 333 S. Valley View Blvd.
The trees are recycled into mulch, and the mulch is put to good use in public parks and gardens to help conserve soil moisture and keep plants healthy. Recycling your tree is a gift that will keep on giving back to the community.
It's important to remove all non-organic objects such as lights, wire, tinsel, ornaments and nails from trees. Foreign objects contaminate the mulch and damage the chipper. Frocked trees, those covered with artificial snow, cannot be recycled..
Douglas County
Douglas Disposal: Curbside collection the week of January 5 on your regular trash day. Six foot lengths or smaller. Douglas County: Jan. 8-11, 2019. Tahoe Township and Carson Valley: curbside pick-up on your regular trash pick-up day (6ft. sections or smaller). Douglas Co. residents can also drop off their trees at Lampe Park, 1324 Waterloo Lane in Gardnerville, from Dec. 26 - Jan 25, 2019. Sponsored by the Douglas County Parks Dept. and Bentley Enterprises.
Elko, Nevada
Elko: Curbside pick-up service The City of Elko will be conducting Christmas tree pickup the week of January 7th through January 11th. (Note since Jan. 1 is a holiday; those residences will be picked up on Jan.2nd.)
Please remove all ornamentation and tree stands, and place your trees close to the curb. Do not place trees in the alley. Trees not placed close to the curb will not be picked up. City crews will not enter private property to retrieve trees. Trees will be picked up according to the schedule on their website. Get your tree out by evening of January 6th if you want to be certain. Crews will only pick up Christmas trees within the Elko City Limits.
City crews will not pick up trees that are located in mobile home parks or other private property. In the event heavy snowfall or other unforeseen circumstances requires the cancellation of this schedule, the trees will be picked up the week
beginning January 14.


Drop off


Beginning December 25th, anyone wishing to drop off a Christmas tree may bring it to the parking lot on the corner of VFW Drive and Court Street. The area will be designated with a sign. For additional information contact the Street Department at 775-777-7241.
Fernley, NV - Dec 26-Jan 11, 2019. Drop-off at the dirt lot behind the rodeo arena at the Out of Town Park (Farm District Rd & Highway 50A).
For more information go to the website or call 775-784-9866.
Henderson, NV
December 26-Jan. 15. The complete and updated list of sites is listed here .
Acacia Park, 50 Casa Del Fuego
Anthem Hills Park , 2256 Reunion Dr.
Arroyo Grande Sports Complex, 298 Arroyo Grande Blvd.
Lowe's, 1401 S. Boulder Highway
Lowe's, 440 Marks Street
Mission Hills Park, 551 Mission Drive
Pecos Legacy Park, 150 N. Pecos Road
Whitney Ranch Recreation Center, 1575 Galleria Dr.
Morrell Park, 500 Harris St. (at Basic Road)

Incline Village, Nevada
Either drop off at Preston Field December 24-Jan. 28, or leave your tree for curbside pickup on your regular trash day the week of Jan. 5 (3 foot lengths maximum for curbside service).

Las Vegas, Nevada
December 26-Jan. 15. The complete and updated list of sites is listed here .


City of Las Vegas/Clark County


Bruce Trent Park, 8851 W. Vegas Drive, Las Vegas, NV.
Desert Breeze Park, 8275 Spring Mountain Road, Las Vegas, NV.
Lowes, 2875 E. Charleston Boulevard, Las Vegas, NV 89104.
Lowes, 4625 West Charleston Boulevard, Las Vegas, NV 89102.
Lowes, 2465 N Nellis Boulevard, Las Vegas, NV 89115.
Lowes, 5825 South Eastern Avenue, Las Vegas, NV 89119.
Lowes, 7550 West Washington, Las Vegas, NV 89128.
Lowes, 6050 West Craig Road, Las Vegas, NV 89130.
Mountain Crest Park, 4701 N. Durango Drive, Las Vegas, NV 89129.
Southern Highlands, Southern Highlands Marketplace, Corner of Southern Highlands Parkway and Cactus Ave.
Summerlin, RC Willey, 3850 S. Town Center Dr.
Springs Preserve, 333 S. Valley View Blvd., Las Vegas, NV 89107
Sunset Park , 2601 E. Sunset
Sunny Springs Park, 7620 Golden Talon Ave.
UNLV Rebel Recycling, 4505 S. Maryland Parkway, Las Vegas, NV 89154.
UNLV Rebel Recycling, Flamingo & Swenson (SE corner)


North Las Vegas


Aviary Park, 6650 Aviary Way
Cheyenne Sports Complex, 3500 E. Cheyenne, North Las Vegas, NV.
Craig Ranch Golf Course, 628 West Craig Road, North Las Vegas, NV 89032.
Seastrand Park, 6330 Camino Eldorado.


Christmas Light Recycling


Do you have strands of non-working Christmas lights in your garage? Greener World in Carson City, Schnitzer Steel in Reno and Champion Recycling in Las Vegas will take strands of old Christmas lights for recycling and even pay you for them. Check with other scrap metal dealers in your area to see if they recycle Christmas lights.
Lovelock, Nevada
Drop off at Big Meadow Recycling Center or Pershing County Landfill.
Pahrump, Nevada
December 25-Jan. 22 at the Cooperative Extension Office (1651 Calvada Blvd.) More info at 775-727-5532.
Reno, NV, Truckee Meadows, Nevada - Christmas Tree Recycling will be from December 26th to January 7th from 9 am to 4:30 pm daily. The locations that you will be able to drop off your tree will be:
More info and volunteer sign ups at http://ktmb.org/treerecycling . Commercial Christmas Tree vendors can take their leftover trees to RT Donovan.
Rancho San Rafael Park, Bartley Ranch Park, Shadow Mountain Sports Complex
Or at one of our Truckee Meadows Fire Protection District Stations:
Stations 16: East Washoe Valley 240 East Lake Blvd., Washoe Valley
Station 17: Spanish Springs 500 Rockwell Blvd., Spanish Springs
Station 223: Lemmon Valley: 130 Nectar St.
The Christmas Tree Recycling Program provides community residents with an easy alternative to dumping trees in the landfill or- as is sometimes seen- in the open spaces. Trees are chipped into mulch that is used for park and weed abatement projects and is available for free to area residents at the Bartley Ranch and Rancho San Rafael drop-off sites.
Winnemucca, NV - Dec 26-Jan 15. Drop-off from 12 pm-3pm at the Community Garden at 151 McArthur St.
If you can't make it then, use the drop-off box at the garden. If you have questions call 775-623-2333.