Where and How to Recycle or Dispose of Christmas Trees in Maryland in January 2018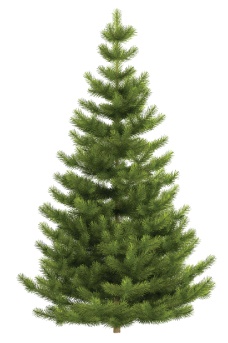 In many urban and suburban areas, Christmas trees are collected from curbside during the first 2 weeks in January. Be sure to remove all remove all lights, wire, tinsel, ornaments, nails, stands, other NON-Organic decorative materials and other materials that are not part of the original tree. This includes tree stands also. Flocked trees are usually accepted, but not artificial trees. Large trees (larger than the standard 6 - 7 ft tree) may need to be cut in half to be acceptable by your garbage hauler. But scrroll down this page for more specific information and local links.
What happens to the trees? In most cases, the trees are chipped and made into a mulch which is usually made available, free to city or county residents. Important: Never burn your Christmas tree in a fireplace or wood stove. Burning the tree may contribute to creosote buildup and could cause a chimney fire.
Tips: Always follow the links (usually the name of the city or county) below for updated information, as these agencies often wait until the last minute to change dates or update their information (it's government, remember?). If your area is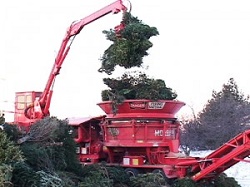 not specifically mentioned below, contact your trash collection agency and inquire!
Related information:
See this page for local options to easily recycle your Christmas holiday lights
Click here for the list of winter sleigh ride locations!
See our easy recipes to make a Chocolate Yule log and click here to make your own low-fat, low calorie but delicious Egg Nog ! Then come back to our other website in March to find a local Easter Egg Hunt for your children !
Maryland: Where and How to Recycle Your Christmas Tree After the Holidays
Baltimore City -

Curbside Tree Collection

For residents who cannot bring their trees for mulching, DPW will offer curbside tree collection from Tuesday, January 3, 2017, through Tuesday, January 31, 2017. Residents should set out trees on their regularly scheduled trash collection day, at the same location where their trash is collected. As a reminder, all tinsel and ornaments must be removed from trees before they are set out for curbside collection, or brought in for mulching. In addition, citizens are encouraged to continue to recycle wrapping paper and recyclable packaging from gifts. This should be set out on your normal recycling collection day. For more information about recycling please visit the Recycling Services section of this website.

Recycling for mulch

: DPW will offer tree mulching for Baltimore City residents from Monday through Saturday during the entire month of January (except for City holidays). Mulching services will be offered from 9 a.m. to 2 p.m. at the Southwest Citizens' Convenience Center located at 701 Reedbird Ave. in South Baltimore. Residents may bring bags or containers to collect mulch for their own use. Community groups are also encouraged to bring bags or containers and collect free mulch for neighborhood gardens, while supplies last. Please make sure that all ornaments and tinsel have been removed from your tree prior to mulching.. For additional information on these and other Solid Waste services, please call 311 or Click here for locations, updated information and more details.
Baltimore County -Christmas Tree Recycling Collection begins Monday, mid-January (in 2017, January 9th). The collection of live Christmas trees for recycling in Baltimore County will take place over a two-week period Click here for locations, updated information and more details. Because Christmas tree collection dates will vary from place to place, residents must have the trees out at the curb no later than Saturday, January 14, 2017 to ensure collection.
Residents must follow these simple rules when placing their Christmas trees at the curb to be recycled:
Set out the tree only (no lights, decorations, tinsel, bags, tree stands, etc.).
Only set out trees at the front curb/street; trees will not be collected from alleys.
Baltimore County collectors will pick up Christmas trees in standard trash/recycling trucks, and deliver them to County facilities to be chipped and later used as mulch. Baltimore County residents who live in an apartment or condominium should follow their property manager's rules when recycling their Christmas trees.
Drop-Off Facilities:
Residents who wish to drop off Christmas trees themselves may do so starting December 26. Christmas trees (no lights, decorations, tinsel, bags, tree stands, etc.) may be taken to one of the three County drop-off locations:
White Marsh
Eastern Sanitary Landfill Solid Waste Management Facility
6259 Days Cove Road, off 11400 block of Pulaski Highway
Monday to Saturday, 7:30 a.m. - 3:30 p.m.
Cockeysville
Baltimore County Resource Recovery Facility
201 Warren Road, facility entrance is on Drop-off Drive, off Warren Road, a quarter mile west of York Road and a quarter mile east of Beaver Dam Road
Monday to Saturday, 7 a.m. - 4 p.m.
Halethorpe
Western Acceptance Facility
3310 Transway Road, off 4500 block of Hollins Ferry Road
Monday to Saturday, 7 a.m. - 4 p.m.
For additional information or directions to the County's three drop-off centers, please visit Solid Waste Management or call 410-887-2000.
Anne Arundel County - Phone: 401-222-6103. Click the link at left for curbside collection dates. Yard waste is composed of leaves, grass clippings, garden waste, and brush (such as twigs, prunings, and small branches), and small trees (including Christmas trees and wreaths). Anne Arundel County collects and composts yard waste, thereby keeping a valuable resource from taking up expensive space in a landfill.
Carroll County - Phone: 410-386-2633.
Frederick County - Please remove all tinsel, ornaments, lights, tree stands, plastic ties, etc. before bringing your tree for recycling at any of the county's seven convenient drop off locations. (Frederick County does not provide curbside collection of Christmas trees, but many municipalities and homeowners associations do; please inquire with your local office for information.) Drop-Off Sites:
Reichs Ford Road Yard Waste Recycling Site - 9031 Reichs Ford RD, Frederick, MD 21704
Ballenger Creek Park (second parking lot on the left) - 5420 Ballenger Creek Pike, Frederick, MD 21703
Kemptown Park (lower left parking lot) - 3456B Kemptown Church RD, Monrovia, MD 21770
Middletown Park Recycling Center (area next to maintenance shop) - 7628 Coblentz RD, Middletown, MD 21769
Point of Rocks Ruritan Club (left side of parking lot) - 1637 Ballenger Creek Pike, Point of Rocks, MD 21777
Eyler Road Park (fenced area on right) - 30 Eyler RD, Thurmont, MD 21788
Heritage Farm Park (yard trimmings collection site) - 9224 Devilbiss Bridge RD, Walkersville, MD 21793
For a printable flyer listing all sites click here

.

Harford County - the Christmas Tree Recycling Program has been established since 1989. Over 90,000 trees have been turned in by county residents for recycling saving valuable landfill space. Christmas trees are ground into mulch along with other yard and garden trimmings at the 6-acre paved Composting Facility at the Harford Waste Disposal Center. Throughout the year, residents may visit the Composting Facility at 3241 Scarboro Road, Street, for three 30-gallon bags or cans of free mulch or compost. Residents must supply their own bags or 30-gallon trash cans. Larger quantities of mulch or compost are available for purchasing. This is a very popular program, so residents should call the Harford Waste Disposal Center at 410-638-3636 for availability. Click here to View Trimming Drop-Off Locations .
Howard County - Phone: 410-313-6444. Merry Mulch Your Holiday Tree: You can help keep thousands of trees out of the landfill by placing you tree at the curb on your recycling day or by taking your tree to a Merry Mulch drop-off site. These trees will be mulched and given a new life. Check out the list of drop-off sites and more information . For a handy chart of collections, visit our Holiday Schedule webpage .
Laurel, Maryland - CHRISTMAS TREE COLLECTION: During January, trees will be collected on WEDNESDAY of each week. Please place your tree wherever you normally place your trash. Residents do NOT need to call in for a collection.
Montgomery County - Phone: 301-590-0046. The county collects Christmas trees along with regular yard waste collection. Put your trees on the curb by 7 am on your regular recycling collection day. Residents in apartment buildings are subject to rules set by building managers. If you miss your collection day (either home or apartment) you can take your tree to the Shady Grove Processing Facility in Derwood. Christmas trees are given a new life after being composted or chipped for mulch, so keep the tree in a natural state. Remove the stand and all decorations, including lights, ornaments, tinsel, and garland. Be sure there is no metal attached to the tree. Remove any plastic bags from your tree. "Living" Christmas trees with root balls and artificial trees cannot be collected as yard trim. You can also recycle branches and needles at home by placing them under trees and shrubs as a temporary winter mulch -- or chop them up and add them to your compost pile!
How to dispose of your artificial tree:
If you have Montgomery County-provided trash collection service, request a bulk trash pickup for your artificial Christmas tree.
If you have privately-provided trash service because you or your homeowners' association have direct contract with a company, check with your collection company for instructions.
If your artificial Christmas tree is still in usable condition, try offering it for reuse on your neighborhood email list, Craigslist, your local Freecycle group, or similar places.
Wreaths and roping are typically bound together with wire. Wire could damage our shredding equipment. And, pieces of wire would become "contaminants" in mulch. If you can separate the greens from their wire, bag or bundle them as yard trim, and set them out for collection on your recycling day. Otherwise, dispose of your wreaths and roping as trash.
Prince George's County - The county collects Christmas trees along with regular yard waste. Yard waste includes grass clippings, leaves, small branches, brush and Christmas trees. For more information about yard waste collection, dial 311. The trees and wreathes (minus ornaments, lights, metal, stands, etc) should be put on the curb before 6:30 am on regular recycling days. You can also take your tree to:
the Yard Waste Composting Facility at 6601 Southeast Crain Highway in Upper Marlboro and
the Brown Station Road Public Convenience Center at 3501 Brown Station Road in Upper Marlboro. See their websites for open hours.
Washington County - residents can recycle Christmas trees at no charge at solid waste facilities.
Clean Christmas trees (two tree limit), with all lights, ornaments and nails removed, will be accepted daily through Jan. 31, excluding holidays.
Trees will be accepted at:
- Forty West Landfill, west of Huyett's Crossroads off U.S. 40, Monday through Saturday, 8 a.m. to 3 p.m.
- Greensburg Convenience Center, 13125 Bikle Road, Tuesday to Saturday, 7:30 a.m. to 3:30 p.m.
- Hancock Convenience Center, 6502 Hess Road, Tuesday to Saturday, 7:30 a.m. to 3:30 p.m.
- Kaetzel Convenience Center, 2926 Kaetzel Road, Tuesday to Saturday, 7:30 a.m. to 3:30 p.m.
- Dargan Convenience Center, 2201 Dargan School Road, Tuesday to Saturday, 7:30 a.m. to 3:30 p.m.
Phone: (240) 313-2796. Click here for locations, updated information and more details.
Westminster, MD - Christmas Tree Collection: During the month of January the city offers residents free Christmas tree disposal at the designated dumpster next to the skate board park on Locust Lane. Otherwise, trees are collected curbside every other Monday (except scheduled City holidays) following the bulk trash schedule. Residents are not required to call in and schedule a pickup, the trees will be automatically collected with tree limbs and brush every other Monday. Trees collected through this program are shredded, along with other tree limbs, to be used as mulch on City flower beds, tree pits, and park grounds. Each year we are able to produce around 200 tons of mulch, which saves us from having to buy it at a local supply yard. So recycling your tree actually saves the city money, and contributes to the beautification of your public spaces! Steps: Either way you choose to do it, please follow these steps:
Remove all ornaments, decorations, and lights
Take the tree out of its stand
Do not wrap the tree in plastic, trash bags, or blankets
If we are picking it up at your house, set it out no sooner than Sunday morning