Where and How to Recycle or Dispose of Christmas Trees in Maimi-Dade County Florida in January 2018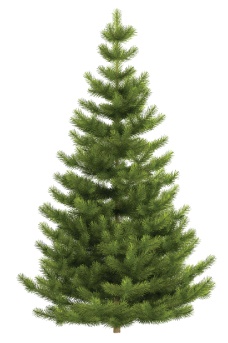 In many urban and suburban areas, Christmas trees are collected from curbside during the first 2 weeks in January. Be sure to remove all remove all lights, wire, tinsel, ornaments, nails, stands, other NON-Organic decorative materials and other materials that are not part of the original tree. This includes tree stands also. Flocked trees are usually accepted, but not artificial trees. Large trees (larger than the standard 6 - 7 ft tree) may need to be cut in half to be acceptable by your garbage hauler. But scrroll down this page for more specific information and local links.
What happens to the trees? In most cases, the trees are chipped and made into a mulch which is usually made available, free to city or county residents. Important: Never burn your Christmas tree in a fireplace or wood stove. Burning the tree may contribute to creosote buildup and could cause a chimney fire.
Tips: Always follow the links (usually the name of the city or county) below for updated information, as these agencies often wait until the last minute to change dates or update their information (it's government, remember?). If your area is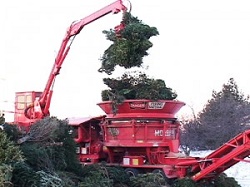 not specifically mentioned below, contact your trash collection agency and inquire!
Related information:
See this page for local options to easily recycle your Christmas holiday lights
If it has just snowed; see this page about how to make snocones from real snow! Your kids will love it!
Click here for the list of winter sleigh ride locations!
See our easy recipes to make a Chocolate Yule log and click here to make your own low-fat, low calorie but delicious Egg Nog ! Then come back to our other website in March to find a local Easter Egg Hunt for your children !
Maimi-Dade County Florida: Where and How to Recycle Your Christmas Tree After the Holidays
Miami - Dade - Click here for locations, updated information and more details. Christmas tree recycling options Starting December 26, residents who receive waste collection service from Miami-Dade County can recycle their Christmas tree at a Trash and Recycling Center or Home Chemical Collection Center . The last day to place trees at the curbside for pick-up is Monday, January 9, 2017. Please call 311 or visit website for details.The tree must be bare and removed of all ornaments and decorations. Residents can also cut their tree and place it in their green waste cart. Residents who choose not to drop off their Christmas tree have the following two options:
1. Cut the tree into smaller pieces and place it in your green waste cart for collection on any of your regularly scheduled waste collection days. The
tree must fit enti rely inside the waste cart. Trees placed next to the waste cart cannot be collected by the automated vehicle.
2. If you cannot cut your tree into pieces and place it in your green waste cart, the tree may be placed at the curbside by Monday, January 9th
and it will be picked up. Christmas trees placed at the curbside after this date will not be picked up and must either be dropped off or placed in the green waste cart for collecti on as described above.Christmas trees can also be placed curbside by Monday, Jan. 7. It will be picked up at a later date. Trees placed curbside after Jan. 7 will not be picked up. Free Christmas tree mulch will be available at six locations, starting in mid-January. Miami-Dade County can recycle their Christmas trees by taking them to one of the County's 13 Trash and Recycling Centers or two Home Chemical Collecti on Centers listed below:
North Dade - 21500 N.W. 47 Ave.
Norwood - 19901 N.W. 7 Ave.
Palm Springs North - 7870 N.W. 178 St.
Golden Glades - 140 N.W. 160 St.
West Litt le River - 1830 N.W. 79 St.
Snapper Creek - 2200 S.W. 117 Ave.
Sunset Kendall - 8000 S.W. 107 Ave.
Chapman Field - 13600 S.W. 60 Ave.
Richmond Heights - 14050 Boggs Dr.
West Perrine - 16651 S.W. 107 Ave.
Eureka Drive - 9401 S.W. 184 St.
South Mia. Heights - 20800 S.W. 117 Ct.
Moody Drive - 12970 S.W. 268 St.
(Trash and Recycling Centers: open 7 days a week, 7 a.m. to 5:30 p.m.)
West Dade - 8831 N.W. 58 Street South Dade - 23707 S.W. 97 Ave., Gate B
Christmas tree mulch will be available at the following six locations beginning n February 2017, for residents to pick up using their own bags or containers, on a first-come, first-served basis, while supplies last.
Eureka Drive - 9401 SW 184 St.
Moody Drive - 12970 SW 268 St.
North Dade Landfill - 21500 NW 47 Ave.
Sunset Kendall - 8000 SW 107 Ave.
West Little River - 1830 NW 79 St.
West Perrine - 16651 SW 107 Ave.