Where and How to Recycle or Dispose of Christmas Trees in Louisiana in after Christmas in 2019 and January 2020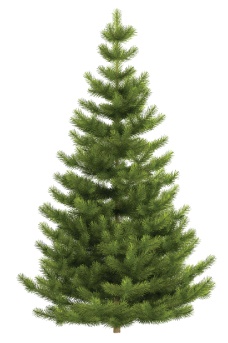 In many urban and suburban areas, Christmas trees are collected from curbside during the first 2 weeks in January. Be sure to remove all remove all lights, wire, tinsel, ornaments, nails, stands, other NON-Organic decorative materials and other materials that are not part of the original tree. This includes tree stands also. Flocked trees are usually accepted, but not artificial trees. Large trees (larger than the standard 6 - 7 ft tree) may need to be cut in half to be acceptable by your garbage hauler. But scrroll down this page for more specific information and local links.
What happens to the trees? In most cases, the trees are chipped and made into a mulch which is usually made available, free to city or county residents. Important: Never burn your Christmas tree in a fireplace or wood stove. Burning the tree may contribute to creosote buildup and could cause a chimney fire.
Tips: Always follow the links (usually the name of the city or county) below for updated information, as these agencies often wait until the last minute to change dates or update their information (it's government, remember?). If your area is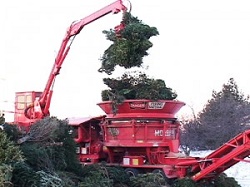 not specifically mentioned below, contact your trash collection agency and inquire!
Related information:
See this page for local options to easily recycle your Christmas holiday lights
If it has just snowed; see this page about how to make snocones from real snow! Your kids will love it!
Click here for the list of winter sleigh ride locations!
See our easy recipes to make a Chocolate Yule log and click here to make your own low-fat, low calorie but delicious Egg Nog ! Then come back to our other website in March to find a local Easter Egg Hunt for your children ! There are affiliate links on this page. Read our disclosure policy to learn more.
Louisiana: Where and How to Recycle Your Christmas Tree After the Holidays
This is a DEQ list, from their website , but it is not complete and it is undated. We will watch for updates on their home page. If your parish isn't listed, please call your parish office for instructions.

Ascension Parish, Louisiana
Drop-off - Lamar-Dixon Expo Center, 9039 St. Landry Rd, Gonzales - from 9 a.m. to 1 p.m. from December 28 through January 12.
For more information, call 225-450-1506. (Exact dates may vary from year to year - so call them!)
Baton Rouge, Louisiana - Christmas tree curbside recycling program will begin January 7 with service scheduled to run through January 19.

The Christmas tree curbside recycling

program is available for all East Baton Rouge Parish residents, with the exception of residents inside Baker and Zachary city limits as these cities operate under separate recycling collection service agreements.In order to be collected, trees must be placed curbside a minimum of three feet from other garbage and unbundled trash, with tinsel, stands, lights, and ornaments removed from trees as these items can contaminate the City-Parish's ability to recycle the tree. Residents should avoid placing trees curbside with any flocking, decorations, stands, or in plastic bags; while these will still be picked up as trash, they will not be recycled. Leave recycling cart at the curb over the two-day periods to allow crews to collect the materials
All sizes clean folded flattened cardboard boxes accepted inside or next to the curbside cart. City-Parish officials are advising residents to leave trees curbside throughout this two-week timeframe as trees may be picked up on days that differ from a resident's normal collection schedule.


Residents will be able to drop off their Christmas tree

for recycling at the following locations from December 26, 2018 through January 26, 2019:
- Independence Park, parking lot off Lobdell between tennis courts and Liberty Lagoon
Highland Road Park, 14024 Highland Road
Memorial Stadium, grassy lot near the corner of Scenic and Foss
Flannery Road Park, 801 S. Flannery Road
LSU, Skip Bertman Drive, lot across from Vet School

Please remove stand, decorations and lights
Do not put tree in a disposal bag
Put trees in collection containers
Wrapping paper should be placed inside cart
No tissue paper or foil paper accepted

Calcasieu Parish, Louisiana - is not offering recycling this year

East Baton Rouge Parish, Louisiana (excluding Baker and Zachary) all trees collected are either mulched or composted. Remove all tinsel, stands, lights, or ornaments from trees and not placed in a bag.
Curbside - Jan. 7 to Jan. 19;
Drop-off - Sites open December 26 to Jan. 26 - put trees in collection containers
Independence Park - 7500 Independence Avenue, B.R.
Highland Road Park - 14024 Highland Rd, B.R.
Memorial Stadium: Grassy lot near the corner of Scenic and Foss
Flannery Road Park - 801 S. Flannery, B.R.
Pecue Wood Recycling Facility - 9544 Pecue Lane, B.R.
LSU - Skip Bertman Drive (lot across from Vet School)


Iberia Parish, Louisiana - is not offering recycling this year

Jefferson Parish, Louisiana - trees collected will be recycled for beneficial use - either
marsh restoration or composting
Curbside - Garbage trucks will make one pass through neighborhoods on Jan. 9, 10 and 11. (Exact dates may vary from year to year) -Christmas trees will be collected curbside throughout unincorporated Jefferson Parish, Gretna, Harahan, Kenner, Lafitte, and Westwego. Trees must be out on the curb on Wed., Jan. 8. Jefferson Parish Department of Environmental Affairs (Christmas Tree Marsh Restoration Project),
4901 Jefferson Hwy, Suite E., Jefferson, (504)731-4612.

Lafayette, Louisiana - trees will be picked up with the yard waste and composted

Lafourche Parish, Louisiana - is not offering recycling this year

Monroe, Louisiana - will conduct Christmas tree recycling from December 26 to Jan. 5 or residents
may drop off trees at the Monroe Civic Center or Wal-Mart parking lot on Lamy Lane.

New Orleans, Louisiana - trees will be recycled to promote the restoration of Louisiana's
wetlands.
Curbside - of homes serviced by Richard's Disposal, trees will be picked up on regularly scheduled collection days from Jan. 9 to 12
and 11. Do not place trees on neutral ground. Christmas trees must be placed out before 5 a.m. on the second regularly scheduled garbage collection day of the week.
Orleans Parish - Residents eligible for garbage collection by the city can put them curbside, before 5 a.m., on their regularly scheduled second collection day in early to mid-January (for properties served by Richard's Disposal and Metro Services).
Properties in the French Quarter or DDD (served by Empire Services), should place their trees curbside before 4 a.m. on the second Thursday in January.

Plaquemines Parish, Louisiana- is not offering recycling this year
Tangipahoa Parish, Louisiana - Drop off at the following locations in January:


There are several drop off locations throughout the parish; Trees can be dropped off starting in the first week of January.


Hammond Maintenance Facility, 18104 Hwy. 190 in Hammond (next to Piggly Wiggly Super Market)
Hours: 7 am to 3:30 pm Mon-Fri, starting December 26 through the end of January.
Southeastern Sustainability Center, 2101 North Oak Street in Hammond
Hours: 7 am to 4 pm Mon-Thurs and 8 - 10 am on Fri, starting Jan. 5 through the end of January.
Middendorf's Restaurant in Manchac, 30160 U.S. 51, Akers, LA 70421.
Home Depot

and

Lowe's

Hammond locations.


Please make sure your tree is not flocked and is free of any lights, ornaments, metal stands, or other un-natural materials. Donated trees will be used to help build up marshland in areas that have been impacted by erosion and other factors.
Terrebonne Parish, Louisiana - the trees collected will go into retention fences called "cribs" along the Intracoastal Waterway near the Mandalay National Wildlife Refuge.They provide an effective wave break. Flocked trees and trees with tinsel, decorations, or tree stands cannot be used. lace their Christmas trees in the area of their normal garbage pickup from January 2, 2019 to January 4, 2019. Residents may also drop off their Christmas trees at the following locations:
236 Ashland Landfill Road, Houma
651 Isle of Cuba Road, Schriever
160 Crochetville Road, MontegutThere are other options:


Curbside

- trees will be picked up during normal garbage pickup Jan. 2 to Jan. 7


Drop-off Sites

- trees can be dropped off any time prior to Jan. 7 at
TPCG Residential drop-off sites at 263 Ashland Landfill Road, 651 Isle Cuba Road in Schriever or 160 Crochetville Road in Montegut.

St. John the Baptist Parish, Louisiana - the trees collected will be recycled at the Manchac site to help fight erosion, serve as an enhancement for wetland animals and help restore the coastline. Curbside - trees will be picked up from Jan. 5 to Jan. 13.

St. Martin Parish, Louisiana - is not offering recycling this year

West Carroll Parish, Louisiana - the trees collected will be mulched. Drop-off - from December 26 to Jan. 6 at Poverty Point State Historic Site, just west of Epps Town Hall. There will be an area fenced with orange construction fence.