Free Christmas Lights Display at Emory Hospital in John's Creek, Georgia
Emory Hospital, John's Creek, Georgia - Free Drive-through Christmas Light Display in 2020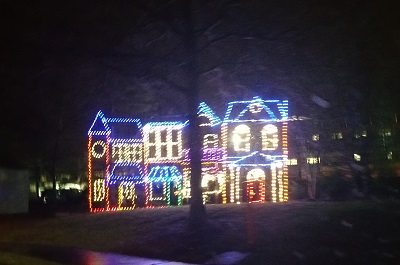 If you're looking for a really good drive-through display of Christmas lights, but you don't want to drive out to Lake Lanier or Calaway Gardens to save both time and money, you'll find free a Christmas Lights Display on Hospital Parkway in Johns Creek by Emory Hospital for the whole of December.

Starting at the south end of Hospital Parkway, (that is Medlock Parkway) there is nearly 2 miles (one mile in each direction, separated by a wooded median) of displays of Holiday Lights by the Emory John's Creek hospital in Technology Park. It is available free to the public from Thanksgiving through New Year. It is sponsored by the Johns Creek Owners Association and Emory Johns Creek Hospital.
You can start at either end of Hospital Drive, but you will want to turn around and come back, as there are lights on both sides of the road, which has a wide median with trees and other obstructions.
Click here for a map and to get directions from your location . (Note, this will open Google maps in a new window. After it does, click the + button on the left to add a destination, and add your starting location. Then make that the starting point. You can choose either end of the hospital drive to be the next point in your drive (the map is pre-loaded with both ends of the display area).
The lights are on photocells so they come on a dark. Some displays come on before others, obviously, as they are on individual controllers. On January 2nd, my family drove past at 5:30 pm and a rainy day, so all of the lights were coming on about 5:30 pm. It is probably best to wait until 6 pm. How late are they on? I don't know but I have been past them as late as 10 pm in past years and they were still on then.

Contact phone (although it's not like there's really anything else they can tell you..)
Phone: 770-232-6005
The route and addresses
Drive to the Medlock Bridge entrance,
6375 Hospital Pkwy, Johns Creek, GA 30097
turn around and drive to the McGinnis Ferry end of Hospital Parkway:
6300 Hospital Pkwy, Johns Creek, GA 30097
It is a divided 2 lane road with a wide landscaped median, so you need to turn around at the traffic light and return to the starting point to see all of the displays.
Technology Park at Johns Creek
6375 Hospital Pkwy,
Johns Creek GA 30097.
Photos of the displays
Here are some more photos from January 2017. These are just a small sampling of the displays to give you an idea. A few of the displays are animated.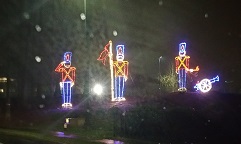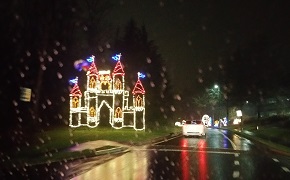 The elves aappear to move.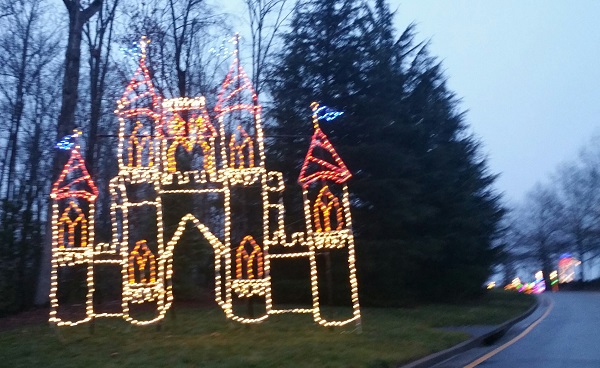 Some of the displays are pretty big.

Thi sis the sign at the north end.

For other free Christmas light displays in the area, click here .

Find a Christmas tree and winter events near you! There are Choose-and-cut-your-own Christmas tree farms, You-choose-and-THEY-cut, or a pre-cut Christmas Tree lot and other fun winter activities, like sleigh rides, hayrides and wagon rides! And because we don't charge for any listings, this is the most complete and up-to-date listing online! Click here for the list of sleigh ride locations! And here are easy, illustrated recipes to make Chocolate Yule log , homemade cranberry sauce (even jellied cranberry sauce ), pumpkin pie (from a pumpkin) , roasted chestnuts , pumpkin soup , cheesecake and pumpkin bread . Real or fake tree - which is better? Click here for the comparison ! We prefer real Christmas trees for environmental and economic reasons! After Christmas, find how how and where to recycle or dispose of your Christmas tree ! There are affiliate links on this page. Read our disclosure policy to learn more.