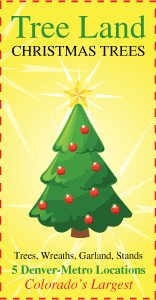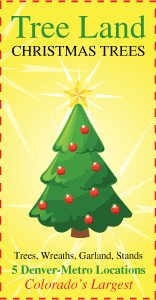 Whether you want to cut your own tree, pick a live tree and have it cut for you, buy a tree already cut or buy a living tree you can plant, this page provides detailed listings of Colorado's choose-and-cut Christmas tree farms, places to buy pre-cut (also called pre-harvested and fresh-cut) trees, stands, sleigh rides, hay rides and related winter events and fun.
Some listings are for tree farms, others are tree lots, and some only offer hay rides, sleigh rides or other winter events. READ EACH LISTING to know what each facility offers. The farms are listed further down this page, so scroll down the page!
I'm always looking for more to add, and to correct any inaccuracies or errors, so if you encounter any,
please email me
!
Tips:
If the name of the farm is blue with an underline; that's a link to their website. Click on it for the most current hours and information.
ALWAYS call the farm or store BEFORE YOU GO to confirm their supply, their hours and whether they have trees, are allowing choose-and-cut or just precut trees; and which attractions or winter activities are available. All three can change during the short Christmas season, due to weather, demand and the farmer's business conditions! Farms get sold, shut down or run out of trees, and I have no way of knowing, because I can't call or visit every farm every month, let alone every day. For more tips to make your trip fun and successful, click here! DON'T DRIVE OUT THERE IF YOU CAN'T REACH THEM BY PHONE OR EMAIL!
And please tell the farmer you visit in Colorado that you found their farm here! I need the farmers to realize that you found them here so that they will keep their information up to date!
Click on the links below for your area, or scroll down the page for a clickable map!
---
NOTE: BE SURE TO CALL THE FARMS BEFORE YOU GO!

Click here for permits to cut in National and state forests.
---
Listings:
---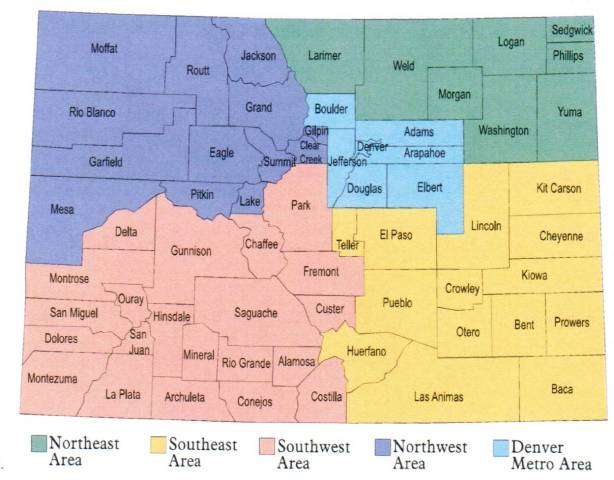 .
Current weather - click for forecast, or enter a zip code for a different location:
---
Events, Other information and related links:
Permits to cut in state and national forests:
Want to cut your own from a national forest in Colorado?
Christmas tree permits, which allow you to cut your own Christmas tree on public lands, are now on sale at National Forest/BLM offices and selected retail outlets in southwestern Colorado. A permit, which costs between $8 and $10 (2008 prices), varies by location, allows you to cut one tree up to 20 feet tall for personal use. This year's permits expire December 25, 2008 (some locations later, December 31, but what's the point?). Permits come with a brochure, that explains regulations and offers helpful tips. National Forest/BLM offices also sell maps and offer free advice on the best areas for tree harvesting, and the best species of tree to cut. See the following links below for specific information by location:
Cutting a Christmas tree in a national forest is a tradition for many residents of the Rocky Mountain Region. First, locate the forrest nearest you. This link has a easy to use map to find trees you may cut in a national forest in your area. Just hover (position) your mouse over the mouse on that page in your area. Next, you'll need a permit. Call the office of the closest Ranger District to the area you want to cut in to verify that they are offering Christmas tree cutting permits.
Denver and Front Range Cutting Areas link or on th For folks that are only interested in finding the Christmas tree cutting areas closest to the Front Range [Denver Metro area] you can click on this Front Range Cutting Areas link or on the small Front Range map to the left. You will then be taken to the Front Range Cutting Areas Web page which shows the cutting areas closest to (north to south) Ft. Collins, Denver and Colorado Springs.
Four primary cutting areas along the Front Range in the Arapaho, Pike and Roosevelt National Forests serve metro Denver and surrounding communities Core Cutting Dates: are typically the first half of December.
Permits: $10 each. One tree per permit. Limit 5 permits per person. All sales are final.
Area Entry Hours: 8:30 am to 2:30 pm to For your safety, no entry is allowed before or after these hours.
Grand Valley District
Routt National Forest - 2008 Permits are $10 per tree with a maximum of five per household. Have your permit with you when cutting a tree, to be secured to the tree at the time of cutting.
San Juan National Forest - A 2008 permit, which costs $8, allows you to cut one tree up to 20 feet tall for personal use. The permits expire on December 31.
White River National Forest - 2008 Permits are $10 per tree and may be purchased at the WRNF offices or the BLM Field Office in Glenwood Springs, Monday through Friday during normal business hours. For additional information, please contact the White River National Forest in Carbondale at 970-963-2266 or the Glenwood Springs BLM Field Office at 970-947-2800.
Colorado state forests:
Christmas tree cutting permits at Golden Gate State Park - In 2012, starting on Wednesday, November 7, 2012 Golden Gate Canyon State Park will offer a limited number of permits for cutting a Christmas tree in selected areas of the park. Permits can be purchased for either Saturday, Dec. 1, or Sunday, Dec. 2, 2012. Start a new family holiday tradition this year by cutting a native Christmas tree from a forest just 30 minutes from the Denver metropolitan area. Areas for either four-wheel or two-wheel drive vehicles will be available, with some hiking required. The permit is good; rain or snow, and no refunds will be given for bad weather. The tree cutting permits will be available for purchase in person at the Golden Gate Canyon State Park Visitor Center, located at 92 Crawford Gulch Rd., 15 miles west of Golden, or by phone, using a credit card for payment, by calling 303-582-3707. Permits will be sold from 9 am to 4 pm daily. Visitors must collect their permits from the visitor center on the permit date, prior to cutting their tree. A detailed map with additional information will be provided with each permit. The permit cost is $25. Permit holders are allowed one tree per permit. A maximum of five permits per person is allowed. A valid park pass is also required for each vehicle, either an annual parks pass or a $7 daily pass, which can be purchased at the visitor center. Trees must be cut with hand tools, such as a handsaw or an axe; chainsaws and power saws are not prohibited. Christmas trees up to 15 feet tall or six inches in trunk diameter may be removed. Tree selections include Douglas Fir, Ponderosa Pine, Lodge Pole Pine and Rocky Mountain Juniper. Permit holders will be assisting Golden Gate Canyon State Park by thinning overcrowded dense vegetation. This selective thinning will improve the overall forest health and reduce the impacts of future wildfires. For more current information, see this page or contact the Visitor Center at 303-582-3707.
General information
(Some of these external links and the search engine on their website may not work all of the time )
U.S. Forest Service, (303) 275-5350 (regional office in Denver)


Do you know of any Christmas tree farms or other special Christmas and winter events in Colorado? Please tell me about them - Click here to write to me!