After Christmas, click here to find how how and where to easily recycle or dispose of your Christmas tree! And to recycle used, broken or old Christmas lights and electronics See this page for local options to easily recycle your Christmas holiday lights
Whether you want to cut your own tree, pick a live tree and have it cut for you, buy a tree already cut or buy a living tree you can plant, this page provides detailed listings of Prince Edwards Island (PEI), Canada's choose-and-cut Christmas tree farms, places to buy pre-cut (also called pre-harvested and fresh-cut) trees, stands, sleigh rides, hay rides and related winter events and fun. Some listings are for tree farms, others are tree lots, and some only offer hay rides, sleigh rides or other winter events. READ EACH LISTING to know what each facility offers. The farms are listed further down this page, so scroll down the page! Since this service is free and open to ALL Christmas tree farms, not just those who belong to an association or pay for an ad, like almost all other websites do, this is the most complete and current listing available! Help me keep this page complete and up to date, by reporting any corrections needed or suggesting farms to add!
My Christmas Tree guide has photos and descriptions of more than 2 dozen varieties of Christmas trees, along with a simple comparison chart!
And beware the copycat websites - from Mommy-bloggers to out-and-out plagiarists, they simply copy my work and rarely update; they are just out to make a quick buck. Since 2004, I've made updates and corrections every day!
If it has just snowed; see this page about how to make snocones from real snow! Your kids will love it!
Pandemic Tips:
Keep in mind that state government COVID dictates may force many farms to cancel Santa visits, hayrides, etc. this year. If the name of the farm is blue with an underline; that's a link to their website. Click on it for the most current hours and information.
ALWAYS call the farm or store BEFORE YOU GO - many farms and lots are selling out of trees early this year or have COVID-19 requirements - Call to confirm their supply, their hours and whether they have trees, are allowing choose-and-cut or just precut trees; and which attractions or winter activities are available. All three can change during the short Christmas season, due to weather, demand and the farmer's business conditions! Farms get sold, shut down or run out of trees, and they don't all update me every day, let alone every year. For more tips to make your trip fun and successful, click here !
DON'T DRIVE OUT THERE IF YOU CAN'T REACH THEM (by phone, email or find current information on their website or Facebook page!
And please tell the farmer you visit in Prince Edwards Island (PEI), Canada that you found their farm here! I need the farmers to realize that you found them here so that they will keep their information up to date!
And if you know of one I missed and want to add it or correct the information, please let me know! There are affiliate links on this page. Read our disclosure policy to learn more.
Updates for October 2021
October 2021: In a normal year, most Christmas tree farms are open up to Christmas Eve; but this year many farms are selling out of trees and closing early for the season, and some decided not to open at all, due to all the COVID19 restrictions. Some are only open on weekends, or only have hayrides, Santa visits and events on weekends. Demand will be high since people have been locked down and not allowed to do much - but you CAN go to farms. And a farm may be the only place you can take your kids to see Santa. Of course, check with the farm BEFORE YOU GO!
And next Spring, you'll want to take your children to a free Easter egg hunt - see our companion website to find a local Easter Egg hunt - (www.EasterEggHuntsAndEasterEvents.org) . It's the ONLY website that is updated every Easter for all Easter Egg hunts in the U.S.
Christmas tree farms, lots and activities, sorted by county
Click on Resources above, if you need a county map
Kings
Tattrie Evergreens - Christmas trees-you choose and you cut, Precut Christmas trees,wreaths
2456 Heatherdale Rd, Montague, PE C0A 1R0, Canada. Phone: 902-838-3881. Tattrie Evergreens Inc. is a family owned and operated Christmas Tree Farm which has been in business for over 25 years. We offer a 7 acre U-Pick lot full of fragrant PEI grown Balsm Fir Trees . What better way to start the holiday season than to pack up the kids in the family car, bring some hot chocolate in a thermos with some snacks, and wander through our beautiful U-Pick lot to pick out the family tree. You can also tag your tree early while the weather is warm and come back when you are ready to cut it. We help load your tree in your vehicle. Also browse our many wreaths and swags in various sizes . Wholesale and Fundraisers: We offer wholesale prices for bulk orders on both Christmas Trees and custom wreath orders. Please contact us for further details at (902) 846-0095.
Christmas tree varieties:
You-Choose and You-Cut varieties: Balsam Fir,
Prince
Brown's U-Cut Christmas Trees - Christmas trees-you choose and you cut,
1635 Macisaac Rd, Richmond, PE C0B 1Y0, Canada. Phone: 902-854-2298.
DesRoches Farms - Christmas trees-you choose and you cut, wreaths
227 Wilfred St, Miscouche, PE C0B 1T0, Canada. Phone: 902-436-6043.
Queens
ChrisMix Tree Farm - Precut Christmas trees,
1386 Peters Road, Emyvale, Cornwall, Prince Edward Island C0A 1Y0. Phone: 902-213-5693. Open: Pre-tagged trees are available for U Pick: November 27th to December 24th. Emyvale Christmas Tree Day: Saturday, mid-December. Homemade Fudge Available.
Clows Red & White General Store - Precut Christmas trees,
1104 Rte. 225, Hampshire Prince Edward Island C0A1Y0. Phone: 902-621-0500. Open: unknown; they don't seem to publish their hours online.
Crooked Creek Farms - UPDATE for 2019, They are permanently closed.
346 Crooked Creek Road (route 251)., Oyster Bed, PE c0a 1n0.

Drummond's Christmas Tree Farm - Christmas trees-you choose and you cut, Precut Christmas trees,
381 Drummond Rd, Kinkora, Prince Edward Island C0B 1L0. Phone: 902-887-2367. Open: from the last weekend in November; U-Cut from 9am to Dark; Pre-Cut from 9am to 7pm. Family owned and operated
pre-cut and u-cut Christmas tree farm.

Great Northern Adventures - NO Christmas trees, but they do offer sleigh rides and wagon rides
924 Fort Augustus Road, Bunbury, PEI, Canada. Phone: 902-894-7558. Email: gnadventures@hotmail.com. Directions: from the Confederation Bridge: (Follow the TransCanada Highway all the way into Charlottetown) 1. Turn left on to Upton Rd (once you pass Cows it is your next left) 2. Turn right on to the Charlottetown Bypass (3rd right on Upton Rd) 3. Follow the Charlottetown Bypass through approximately seven sets of light. 4. Turn left on to the Hillsborough Bridge (there is a Tim Hortons on your right) 5. Take your first exit off the bridge on your left (if you go through a set of lights, you've gone too far.) 6. Follow the Bunbury Rd until you come to a stop sign 7. Turn left at the stop sign on to the Fort Augustus Rd 8 We are the 4th driveway on the RIGHT. There is a large sign! We offer a romantic sleigh or wagon rides for two through our beautiful snow covered woods, bundled up with blankets then come back to our rustic heated cabin for a homemade dessert by candlelight and go to the petting pen to see all the animals. We offer this any day/any time of the week. And in February, a special anniversary or just for Valentines Day? Want a fun way to propose to your loved one??? We are also available for proms and weddings!

Green Needle

- Christmas trees- you choose and we cut,
Winsloe 376 Malpeque Rd, Charlotte , PE C1e1v4. Phone: (902) 368-1735. Open: all week to Tag, Open Wednesday to Sunday for cutting. Directions: Route 2 Winsloe. Payment: Cash, only.
Christmas tree varieties:
You Choose and We cut varieties: Balsam Fir, Eastern White Pine.
(ADDED: October 15, 2021)
Kelly's Christmas Tree Farm - Precut Christmas trees
4013 Fort Augustus Rd, Fort Augustus, PE C1A 2Z3. Phone: (902) 394-2215. Open: unknown, unfortunately, they don't publish

any

information online; you have to call them.

Silver Bell Christmas Tree Farm - Precut Christmas trees, also mail order trees delivered
18200 Route 2, Springvale, Milton Station, Prince Edward Island C0A 1Y0. Phone: 902-954-0803. Phone: (902) 892-6611, Dr. Jim Murphy. Open: Monday to Friday, 8:30 am to 4:30 pm ADT. Voice Mail: (902) 964-3051. Fax: (902) 368-8376. Email: docj@pei.aibn.com. Silver Bell's fully decorated 22" wreaths are made from fresh cultivated balsam fir. Cultivated fir offers a richer, deeper green and our dedication to freshness, provides the traditional, wonderful fragrance of Christmas. Place your order by telephone by calling Dr. Jim Murphy at (902) 892-6611 (Monday to Friday, 8:30 am to 4:30 pm ADT) or leave a message anytime at (902) 964-3051 or Email. You may mail or fax your orders by printing and filling out our online form.
Smith's Christmas Trees - Choose and cut trees, pre-cut trees and wreaths
Toronto Rd, Lot 23, PE C0A, Canada. Phone: 902-963-2545.
Watts Tree Farm - Christmas trees-you choose and you cut, Precut Christmas trees,
2025 Heatherdale Road, Kilmuir, PE C0A 1R0. Phone: 902 388-4050. Open: Mid November and December, Saturdays from 9:30am to Dusk, Sundays from 12 pm to Dusk and Weekdays By luck or by appointment. We have few pre-cut trees for evenings or people in a hurry! Watts Tree Farm is a 100 acre actively managed woodlot with 6 acres devoted to growing Christmas trees. Our unique approach to encouraging families to come out early, before the Christmas rush, and pre-select their tree sets us apart from most other chose and cut operations in the province. Located in Kilmuir, PEI, near Montague, we are a short drive away for most Islanders to come out and enjoy the experience of walking through the rows of trees in search of the best tree for your home. Children especially enjoy this outdoor experience. Many people like to come out early, when the weather is good, to select their tree. We tag it and keep it right where it is, until you want it in December
Christmas tree varieties:
You-Choose and You-Cut varieties: Balsam Fir, Korean Fir and White Pine
.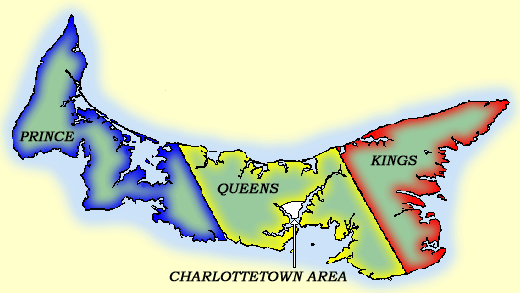 Do you know of any Christmas tree farms or other special Christmas and winter events in Prince Edwards Island (PEI), Canada? Please tell me about them - Click here to write to me!