Where and How to Recycle or Dispose of Christmas Trees in Broward County Florida in January 2018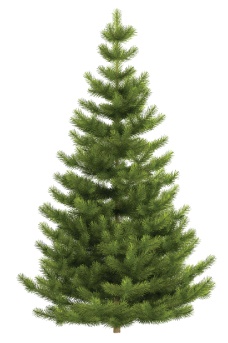 In many urban and suburban areas, Christmas trees are collected from curbside during the first 2 weeks in January. Be sure to remove all remove all lights, wire, tinsel, ornaments, nails, stands, other NON-Organic decorative materials and other materials that are not part of the original tree. This includes tree stands also. Flocked trees are usually accepted, but not artificial trees. Large trees (larger than the standard 6 - 7 ft tree) may need to be cut in half to be acceptable by your garbage hauler. But scrroll down this page for more specific information and local links.
What happens to the trees? In most cases, the trees are chipped and made into a mulch which is usually made available, free to city or county residents. Important: Never burn your Christmas tree in a fireplace or wood stove. Burning the tree may contribute to creosote buildup and could cause a chimney fire.
Tips: Always follow the links (usually the name of the city or county) below for updated information, as these agencies often wait until the last minute to change dates or update their information (it's government, remember?). If your area is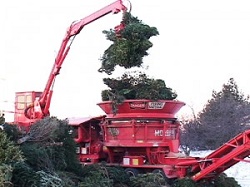 not specifically mentioned below, contact your trash collection agency and inquire!
Related information:
See this page for local options to easily recycle your Christmas holiday lights
If it has just snowed; see this page about how to make snocones from real snow! Your kids will love it!
Click here for the list of winter sleigh ride locations!
See our easy recipes to make a Chocolate Yule log and click here to make your own low-fat, low calorie but delicious Egg Nog ! Then come back to our other website in March to find a local Easter Egg Hunt for your children !
Broward County Florida: Where and How to Recycle Your Christmas Tree After the Holidays
Broward County
Broward County has an annual annual Chip-a-Tree initiative. The free program is for Broward County residents only. Details are:
This season's program runs daily from December 26, through Monday, January 15, 2018 (Martin Luther King Day),
It is for Broward County Residents only
You must remove all decorations from their holiday trees (no decorated trees will be accepted), then
bring the trees to a participating park, (see the list below)
that's where the trees will be chipped and used for landscaping throughout the county park system.
There is a limit of two trees per vehicle, artificial trees are not accepted, and no commercial vehicles or garbage trucks are allowed.
the regular weekend and holiday gate entrance fee will NOT be in effect for recyclers,
Hours vary; call the park of your choice for details. Park locations are:
Last year Broward County Parks recycled more than 5,000 trees, representing tons of material that would otherwise have gone to landfills. This year your tree can join those recyclable thousands.
---
Davie, FL
Davie Christmas Tree disposal - Christmas Trees will be picked up at the curb from January 2 through January 31st.
Please remove all ornaments, lights and tinsel from the tree before setting it out. Christmas trees that are left at the curb for pick-up will NOT be recycled. Please note that your tree may not be picked up on your regular scheduled garbage day, so just leave the tree curbside and it will get picked up during the week by another truck. There is no need to call for a tree pick up unless it does not get picked up in a week.
Davie Christmas Tree Recycling:
If you want to Recycle your Christmas Trees: see the Broward County Chip-A-Tree Program above
Fort Lauderdale
Fort Lauderdale - offers the eco-friendly options below (Click here for locations, updated information and more details. ):
In all cases, please:
Remove all decorations prior to disposal. In general, holiday tree decorations are not recyclable. Please re-use them, donate them or dispose of them in your garbage cart. (See our reference chart at the bottom of this page.)
Remove all lights, tinsel, nails, tacks, tree skirts and stands or any other non-organic materials.
Options:
Curbside Recycling: Fort Lauderdale residents may place holiday trees curbside for pickup on scheduled yard waste collection days. The free service begins the week of December 29th and concludes on January 10th. This is an easy, eco-friendly method for disposal of fresh holiday trees .Trees that are placed curbside will be collected by Republic Services and transported to a yard waste processor where they will be chipped and used to make landscaping products, such as mulch. To participate in curbside collection, please remove tree stands, tinsel, lights, skirts, and ornaments from trees. Do not place the tree in any sort of bag. Set it out prior to 7:00 am on your yard waste collection day. Artificial greenery of any kind is not included in this special collection.
Green Yard Waste Cart: Dispose of trees inside the green yard waste cart, as you would any tree branches and other plant material. Be sure that the cart lid can be closed completely. Cut the tree into pieces if necessary. NO ARTIFICIAL TREES in the yard waste cart, please.
Bulk Trash pick up: Leave trees curbside for bulk trash pick-up. This is good for real or artificial trees NEXT TO the bulk trash pile, not mixed in with other items, on your regular collection day. Please place trees curbside no earlier than the evening before, or according to homeowner association guidelines. Remove all small parts. Discard decorations and small artificial elements in your black garbage cart, and small natural pieces in your yard waste cart. This helps to prevent litter from blowing around the street or down nearby storm drains.
Take to the Chip-A-Tree Program: Take trees to one of the Broward County's designated parks as part of the Chip-A-Tree Program, If you do not want to wait for collection, you can take trees to one of Broward County's designated parks as part of the Chip-A-Tree Program. Check the Chip-a-Tree webpage for this year's schedule information. Drop off at designated locations (see above under Broward County) only within the park between 9 a.m. and 5 p.m. NO ARTIFICIAL TREES will be accepted. Only persons in personal vehicles will be allowed to leave trees; no truckloads. There is no fee. The parks' regular weekend and holiday gate entrance fee of $1.50 per person will be waived as an incentive for those recycling trees. For more information about the Chip-A-Tree Program please call 954-357-8114 or e-mail parksmarketing@broward.org .
Take trees to one of Broward County's three Trash Transfer Stations.
Yard Waste Cart Disposal: If trees are placed in the yard waste cart, they must be cut into pieces so the lid can close completely. To reduce collection and disposal costs, the City strongly encourages residents to recycle trees using the yard waste cart.
Other notes:
If you do not want to keep and re-use your decorations, consider donating them. Charities, schools and other organizations can often re-use decorations or break them down for use as art supplies.
Strings of lights and battery-powered ornaments or tree toppers should be treated as e-waste.
Other "living" decorations, such as fresh wreaths, garlands, door swags, and poinsettias (pot removed) can be disposed of in your green yard waste cart.
Please note: Artificial trees are not recyclable through City of Fort Lauderdale collection programs. Please re-use or donate them, and only dispose of them via garbage or bulk waste.
If you have questions about holiday tree disposal in the City of Fort Lauderdale, please contact our 24-Hour Customer Service Center at 954-828-8000.
---
Hollywood
Hollywood, FL - You may dispose of your Christmas tree through your regularly scheduled commingled residential pickup, OR, as a Hollywood resident, you may recycle your tree through Broward County's free Chip-a-Tree recycling program. You may take your tree to the following County parks located in Hollywood: Topeekeegee Yungee Park, 3300 N. Park Road, Hollywood 33021, 954-357-8811;
West Lake Park, 1200 Sheridan Street, Hollywood 33019, 954-357-5161; From December 26 through January 18, you can bring up to two trees per vehicle. Artificial trees are not accepted and no commercial vehicles or garbage trucks are allowed to participate. The regular weekend and holiday gate entrance fee will NOT be in effect for recyclers but hours vary, so call the park for details or visit the Broward County website .

Parkland, FL
Parkland, FL - put out your Christmas tree for pick-up on your regular trash day. We have arranged for extra trucks on Thursday 1/5, Friday 1/6, and Saturday 1,7, but you may put out your tree when you are ready to do so.
Weston, FL
Weston, FL - Christmas Tree Collection 2016/2017
For residents with curbside garbage collection, Christmas trees will be picked up
through January 28, 2017 on your regularly scheduled collection day.